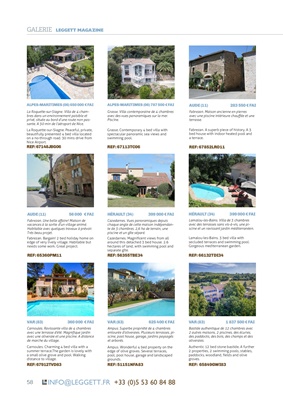 585858
GALERIE LEGGETT MAGAZINE
AUDE (11) 56 000 € FAI
Fabrezan. Une belle affaire! Maison de
vacances à la sortie d'un village animé.
Habitable avec quelques travaux à prévoir.
Très beau projet.
Fabrezan. Bargain! 2 bed holiday home on
edge of very lively village. Habitable but
needs some work. Great project.
REF: 65360PM11
HÉRAULT (34) 399 000 € FAI
Cazedarnes. Vues panoramiques depuis
chaque angle de cette maison indépendante de 3 chambres. 2,6 ha de terrain,
une
piscine et un gîte séparé.
Cazedarnes. Magnificent views from all
around this detached 3 bed house. 2.6
hectares of land, with swimming pool and
separate gîte.
REF: 56355TBE34
HÉRAULT (34) 399 000 € FAI
Lamalou-les-Bains. Villa de 3 chambres
avec des terrasses sans vis-à-vis, une piscine et un ravissant
jardin méditerranéen.
Lamalou-les-Bains. 3 bed villa with
secluded terraces and swimming pool.
Gorgeous mediterranean garden.
REF: 66132TDI34
AUDE (11) 283 550 € FAI
Fabrezan. Maison ancienne en pierres
avec une piscine intérieure chauffée et une
terrasse.
Fabrezan. A superb piece of history. A 3
bed house with indoor heated pool and
a terrace.
REF: 67852LRO11
info@leggett.fr +33 (0)5 53 60 84 88
VAR (83) 360 000 € FAI
Carnoules. Ravissante villa de 4 chambres
avec une terrasse d'été. Magnifique jardin
avec une oliveraie et une piscine. A distance
de marche du village.
Carnoules. Charming 4 bed villa with a
summer terrace.The garden is lovely with
a small olive grove and pool. Walking
distance to village.
REF: 67912TVD83
VAR (83) 625 400 € FAI
Ampus. Superbe propriété de 4 chambres
entourée d'oliveraies. Plusieurs terrasses, piscine, pool house, garage,
jardins paysagés
et arborés.
Ampus. Wonderful 4 bed property on the
edge of olive groves. Several terraces,
pool, pool house, garage and landscaped
grounds.
REF: 51151NFA83
VAR (83) 1 837 500 € FAI
Bastide authentique de 12 chambres avec
2 autres maisons, 2 piscines, des écuries,
des paddocks, des bois, des champs et des
oliveraies.
Authentic 12 bed stone bastide. A further
2 properties, 2 swimming pools, stables,
paddocks, woodland, fields and olive
groves.
REF: 65849GWI83
58
ALPES-MARITIMES (06) 650 000 € FAI
La Roquette-sur-Siagne. Villa de 4 chambres dans un environnement paisible et
privé, située au bord d'une route non passante. A 30 min de l'aéroport de Nice.
La Roquette-sur-Siagne. Peaceful, private,
beautifully presented 4 bed villa located
on a no-through road. 30 mins drive from
Nice Airport.
REF: 67148JBG06
ALPES-MARITIMES (06) 787 500 € FAI
Grasse. Villa contemporaine de 4 chambres
avec des vues panoramiques sur la mer.
Piscine.
Grasse. Contemporary 4 bed villa with
spectacular panoramic sea views and
swimming pool.
REF: 67113TC06