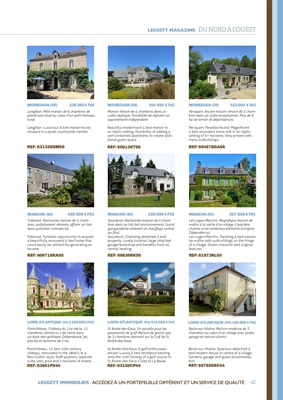 4141
LEGGETT MAGAZINE DU NORD À L'OUEST
LOIRE-ATLANTIQUE (44) 1 285 000 € FAI
Pontchâteau. Château du 15e siècle, 11
chambres, rénové au 19e siècle dans
un style néo-gothique. Dépendance, lac,
piscine et domaine de 2 ha.
Pontchâteau. 11 bed 15th century
château, renovated in the 1800's in a
Neo-Gothic style. Staff quarters, separate
suite, lake, pool and 2 hectares of estate.
REF: 63861PH44
LOIRE-ATLANTIQUE (44) 519 950 € FAI
St André-des-Eaux. Un paradis pour les
passionnés de golf! Maison de grand luxe
de 3 chambres donnant sur le Golf de St
André-des-Eaux.
St André-des-Eaux. A golf enthusiasts
dream! Luxury 3 bed residence backing
onto the 10th fairway of a golf course in
St Andre-des-Eaux. Close to La Baule.
REF: 63199CP44
LOIRE-ATLANTIQUE (44) 189 000 € FAI
Besle-sur-Vilaine. Maison moderne de 3
chambres au coeur d'un village avec jardin,
garage et maison d'amis.
Besle-sur-Vilaine. Spacious detached 3
bed modern house in centre of a village.
Gardens, garage and guest accommodation.
REF: 68788DSC44
MANCHE (50) 402 800 € FAI
Tollevast. Ravissante maison de 5 chambres, parfaitement
rénovée, offrant un très
beau potentiel commercial.
Tollevast. Fantastic opportunity to acquire
a beautifully renovated 5 bed home that
could easily be utilised for generating an
income.
REF: 60671SRA50
MANCHE (50) 155 000 € FAI
Sourdeval. Ravissante maison de 3 chambres dans un très bel environnement. Grand
garage/atelier attenant et chauffage central
au fioul.
Sourdeval. Charming detached 3 bed
property. Lovely location, large attached
garage/workshop and benefits from oil
central heating.
REF: 66836RK50
MANCHE (50) 397 500 € FAI
Les-Loges-Marchis. Magnifique maison de
maître à la sortie d'un village. Caractère,
charme et de nombreux éléments d'origine.
Dépendances.
Les-Loges-Marchis. Dazzling 4 bed maison
de maÎtre with outbuildings on the fringe
of a village. Oozes character and original
features.
REF: 61973RL50
MORBIHAN (56) 339 200 € FAI
Langëlan. Petit manoir de 6 chambres de
grand luxe situé au coeur d'un petit hameau
rural.
Langëlan. Luxurious 6 bed manor house
situated in a quiet countryside hamlet.
REF: 63132SSM56
MORBIHAN (56) 304 950 € FAI
Manoir rénové de 4 chambres dans un
cadre idyllique. Possibilité de rajouter un
appartement indépendant.
Beautiful modernised 4 bed manoir in
an idyllic setting. Possibility of adding a
self-contained apartment, to create additional guest space.
REF: 50013KT56
MORBIHAN (56) 423 900 € FAI
Persquen. Ancien moulin rénové de 3 chambres dans un cadre
exceptionnel. Plus de 6
ha de terrain et dépendances.
Persquen. Paradise found! Magnificent
3 bed renovated stone mill in an idyllic
setting of 6+ hectares. Very private with
many outbuildings.
REF: 60457BGA56
LEGGETT IMMOBILIER - ACCÉDEZ À UN PORTEFEUILLE DIFFÉRENT ET UN SERVICE DE QUALITÉ