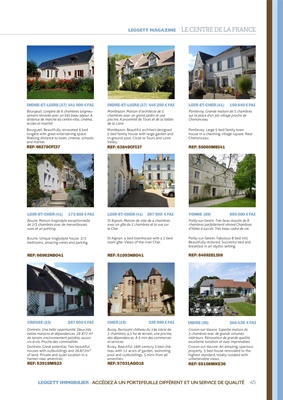 45
LOIR-ET-CHER (41) 172 800 € FAI
Bourre. Maison troglodyte exceptionnelle
de 2/3 chambres avec de merveilleuses
vues et un parking.
Bourre. Unique troglodyte house. 2/3
bedrooms, amazing views and parking.
REF: 66962NBO41
LOIR-ET-CHER (41) 397 500 € FAI
St Aignan. Maison de ville de 4 chambres
avec un gîte de 2 chambres et la vue sur
le Cher.
St Aignan. 4 bed townhouse with a 2 bedroom
gîte. Views of the river Cher.
REF: 51093NBO41
YONNE (89) 995 000 € FAI
Poilly-sur-Serein. Très beau moulin de 8
chambres parfaitement rénové.Chambres
d'hôtes à succès. Très beau cadre de vie.
Poilly-sur-Serein. Fabulous 8 bed mill.
Beautifully restored. Succesful bed and
breakfast in an idyillic setting.
REF: 64692ELI89
INDRE-ET-LOIRE (37) 441 000 € FAI
Bourgeuil. Longère de 6 chambres soigneusement rénovée
avec un très beau séjour. A
distance de marche du centre-ville, cinéma,
écoles et marché.
Bourgueil. Beautifully renovated 6 bed
longère with great entertaining space.
Walking distance to town, cinema, schools
and market.
REF: 66278CFI37
INDRE-ET-LOIRE (37) 446 250 € FAI
Montbazon. Maison d'architecte de 5
chambres avec un grand jardin et une
piscine. A proximité de Tours et de la Vallée
de la Loire.
Montbazon. Beautiful architect-designed
5 bed family house with large garden and
in-ground pool. Close to Tours and Loire
Valley.
REF: 63849CFI37
LOIR-ET-CHER (41) 159 840 € FAI
Pontlevoy. Grande maison de 5 chambres
sur la place d'un joli village proche de
Chenonceau.
Pontlevoy. Large 5 bed family town
house in a charming village square. Near
Chenonceau.
REF: 55060MBI41
45
LEGGETT MAGAZINE LE CENTRE DE LA FRANCE
CREUSE (23) 267 500 € FAI
Dontreix. Une belle opportunité. Deux très
belles maisons et dépendances. 26 872 m²
de terrain, environnement paisible, aucun
vis-à-vis. Proche des commodités.
Dontreix. Great potential. Two beautiful
houses with outbuildings and 26,872m2
of land. Private and quiet location in a
hamlet near amenities.
REF: 53919MS23
CHER (18) 339 999 € FAI
Bussy. Ravissant château du 19e siècle de
5 chambres, 4,5 ha de terrain, une piscine,
des dépendances. A 5 min des commerces
et services.
Bussy. Beautiful 19th century 5 bed château with 12 acres
of garden, swimming
pool and outbuildings. 5 mins from all
amenities.
REF: 57031AGO18
INDRE (36) 266 430 € FAI
Crozon-sur-Vauvre. Superbe maison de
3 chambres avec de grands volumes
intérieurs. Rénovation de grande qualité,
excellente isolation et vues imprenables.
Crozon-sur-Vauvre. An amazing, spacious
property. 3 bed house renovated to the
highest standard, totally isolated with
unbelievable views.
REF: 65108MKE36
LEGGETT IMMOBILIER - ACCÉDEZ À UN PORTEFEUILLE DIFFÉRENT ET UN SERVICE DE QUALITÉ