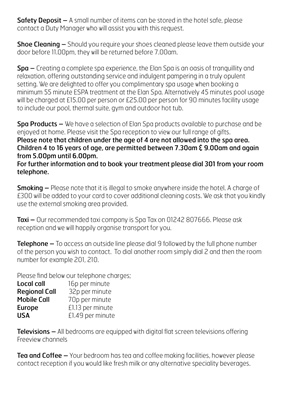 Safety Deposit - A small number of items can be stored in the hotel safe, please
contact a Duty Manager who will assist you with this request
Shoe Cleaning - Should you require your shoes cleaned please leave them outside your
door before 11pm, they will be returned before 7am
Spa - Creating a complete spa experience, the Elan Spa is an oasis of tranquillity and
relaxation, offering outstanding service and indulgent pampering in a truly opulent
setting. A charge of £25.00 per person, per day (bookable in advance) will be charged to
the individual guests wishing to use the Elan Spa facilities without a treatment booking,
this will be valid for use between our stated arrival time of 3.00pm and departure time of
11.00am and will be subject to availability.
Spa Products - We have a selection of Elan Spa products available to purchase and be
enjoyed at home. Please visit the Spa reception to view our full range of gifts
Please note that children under the age of 4 are not allowed into the spa area.
Children 4 to 16 years of age, are permitted between 7.30am & 9.00am and again
from 5.00pm until 6.00pm
For further information and to book your treatment please dial 301 from your room
telephone
Smoking - Please note that it is illegal to smoke anywhere inside the hotel. A charge
of £300 will be added to your card to cover additional cleaning costs. We ask that you
kindly use the external smoking area provided
Taxi - Our recommended taxi company is contactable on 01242 523523. Please ask
reception and we will happily organise transport for you
Telephone - To access an outside line please dial 9 followed by the full phone number
of the person you wish to contact. To dial another room simply dial 2 and then the room
number for example 201, 210
Please find below our telephone charges;
Local call 16p per minute
Regional Call 32p per minute
Mobile Call 70p per minute
Europe £1.13 per minute
USA £1.49 per minute
Televisions - All bedrooms are equipped with digital flat screen televisions offering
Freeview channels
Tea and Coffee - Your bedroom has tea and coffee making facilities, however please
contact reception if you would like fresh milk or any alternative speciality beverages