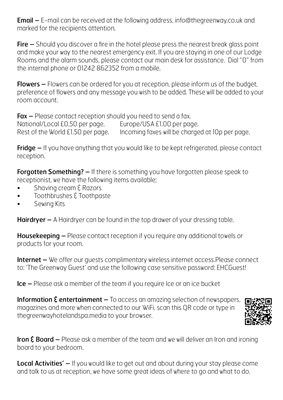 Email - E-mail can be received at the following address, info@thegreenway.co.uk and
marked for the recipients attention
Fire - Should you discover a fire in the hotel please press the nearest break glass point
and make your way to the nearest emergency exit. If you are staying in one of our Lodge
Rooms and the alarm sounds, please contact our main desk for assistance. Dial "0" from
the internal phone or 01242 862352 from a mobile.
Flowers - Flowers can be ordered for you at reception, please inform us of the budget,
preference of flowers and any message you wish to be added. These will be added to your
room account
Fax - Please contact reception should you need to send a fax.
National/Local £0.50 per page Europe/USA £1.00 per page
Rest of the World £1.50 per page
Incoming faxes will be charged at 10p per page
Fridge - If you have anything that you would like to be kept refrigerated, please contact
reception
Forgotten Something? - If there is something you have forgotten please speak to
receptionist, we have the following items available;
• Shaving cream & Razors
• Toothbrushes & Toothpaste
• Sewing Kits
Hairdryer - A Hairdryer can be found in the top drawer of your dressing table
Housekeeping - Please contact reception if you require any additional towels or
products for your room
Internet - We offer our guests complimentary wireless internet access.Please connect
to: 'The Greenway Guest' and use the following case sensitive password: EHCGuest!
Ice - Please ask a member of the team if you require Ice or an ice bucket
Iron & Board - Please ask a member of the team and we will deliver an Iron and ironing
board to your bedroom
Local Activities' - If you would like to get out and about during your stay please come
and talk to us at reception, we have some great ideas of where to go and what to do
Lost and Found - All items that have been found are held and recorded for a period of
three months. If you have lost or mislaid any of your items please contact reception
Maintenance - If something has broken in your room during your stay, please let
reception know as soon as possible and we will endeavour to have it rectified