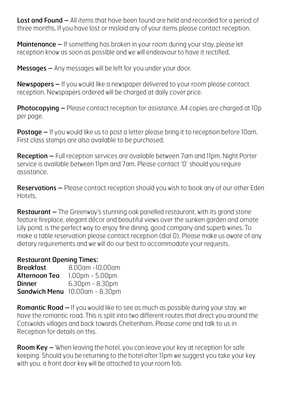 Messages - Any messages will be left for you under your door
Newspapers - There will be a selection of newspapers around the reception area for you
to take and read, however if you would like a newspaper delivered to your room please
contact reception. Newspapers ordered will be charged at daily cover price
Photocopying - Please contact reception for assistance. A4 copies are charged at 10p
per page
Postage - If you would like us to post a letter please bring it to reception before 10am.
First class stamps are also available to be purchased
Reception - Full reception services are available between 9am and 9pm. Night Porter
service is available between 11pm and 7am. Please contact '0' should you require
assistance
Reservations - Please contact reception should you wish to book any of our other Eden
Hotels.
Restaurant - The Greenway's stunning oak panelled restaurant, with its grand stone
feature fireplace, elegant décor and beautiful views over the sunken garden and ornate
Lily pond, is the perfect way to enjoy fine dining, good company and superb wines. To
make a table reservation please contact reception (dial 0). Please make us aware of any
dietary requirements and we will do our best to accommodate your requests
Restaurant Opening Times:
Breakfast 7.00-10.00am Monday to Friday, 8.00-10.00am Saturday and Sunday
Afternoon Tea 1.00pm to 5.00pm Monday to Sunday
Dinner 6.30pm to 8.30pm Sunday to Thursday, 6.30pm to 9.00pm Friday &
Saturday
Lounge Menu 10.00am - 9.00pm Monday to Sunday
Romantic Road - If you would like to see as much as possible during your stay, we
have the romantic road. This is split into two different routes that direct you around the
Cotswolds villages and back towards Cheltenham. Please come and talk to us in
Reception for details on this
Room Key - When leaving the hotel, you can leave your key at reception for safe
keeping. Should you be returning to the hotel after 11pm we suggest you take your key
with you, a front door key will be attached to your room fob
Room Service - Our room service menus are located at the back of this folder.
A continental breakfast is available between 7.00am until 10.00am and the full room
service menu is available between 10.00am until 9.00pm daily. Please note all room
service orders will incur a £3.50 per person tray charge. Please dial 0 for assistance or to
place your order