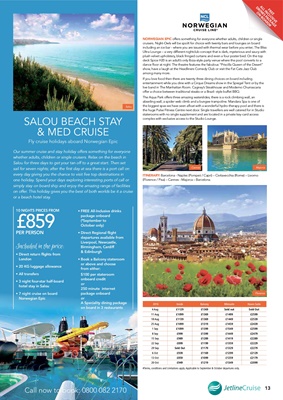 SALOU BEACH STAY
& MED CRUISE
Fly cruise holidays aboard Norwegian Epic
Our summer cruise and stay holiday offers something for everyone
whether adults, children or single cruisers. Relax on the beach in
Salou for three days to get your tan off to a great start. Then set
sail for seven nights; after the first day at sea there is a port call on
every day giving you the chance to visit five top destinations in
one holiday. Spend your days exploring interesting ports of call or
simply stay on board ship and enjoy the amazing range of facilities
on offer. This holiday gives you the best of both worlds be it a cruise
or a beach hotel stay.
NORWEGIAN EPIC offers something for everyone whether adults, children or single
cruisers. Night-Owls will be spoilt for choice with twenty bars and lounges on board
including an ice bar - where you are issued with thermal wear before you enter; The Bliss
Ultra Lounge - a very different nightclub concept that is dark, mysterious and saucy with
plush velvet upholstery, black fringed curtains and even a four poster bed. On the top
deck Spice H20 is an adult's only Ibiza-style party venue where the pool converts to a
dance floor at night. The theatre features the fabulous "Priscilla Queen of the Desert"
show, have a laugh at the Headliners Comedy Club or visit the Fat Cats Jazz Club
among many more.
If you love food then there are twenty three dining choices on board including
entertainment while you dine with a Cirque Dreams show in the Spiegel Tent or by the
live band in The Manhattan Room. Cagney's Steakhouse and Moderno Churrascaria
offer a choice between traditional steaks or a Brazil- style buffet BBQ.
The Aqua Park offers three amazing waterslides; there is a rock climbing wall, an
abseiling wall, a spider web climb and a bungee trampoline. Mandara Spa is one of
the biggest spas we have seen afloat with a wonderful hydro-therapy pool and there is
the huge Pulse Fitness Centre next door. Single travellers are well catered for in Studio
staterooms with no single supplement and are located in a private key-card access
complex with exclusive access to the Studio Lounge.
13
Call now to book: 0800 082 2170
Salou
Included in the price:
• Direct return flights from
London
• 20 KG luggage allowance
• All transfers
• 3 night four-star half-board
hotel stay in Salou
• 7 night cruise on board
Norwegian Epic
10 NIGHTS PRICES FROM
£859PER PERSON
2016 Inside Balcony Minisuite Haven Suite
4 Aug £1129 £1369 Sold out Sold Out
11 Aug £1099 £1369 £1499 £2599
18 Aug £1139 £1369 £1449 £2539
25 Aug £1099 £1319 £1459 £2439
1 Sep £1099 £1399 £1549 £2599
8 Sep £999 £1399 £1449 £2479
15 Sep £989 £1289 £1419 £2289
22 Sep £899 £1199 £1359 £2229
29 Sep Sold Out £1179 £1329 £2279
6 Oct £939 £1169 £1299 £2129
13 Oct £859 £1099 £1259 £2179
20 Oct £949 £1219 £1349 £2099
#Terms, conditions and Limitations apply. Applicable to September & October departures only.
Cannes Majorca
ITINERARY: Barcelona - Naples (Pompeii / Capri) - Civitavecchia (Rome) - Livorno
(Florence / Pisa) - Cannes - Majorca - Barcelona.
Florence
• FREE All-Inclusive drinks
package onboard
(#September to
October only)
• Direct Regional flight
departures available from
Liverpool, Newcastle,
Birmingham, Cardiff
& Edinburgh
• Book a Balcony stateroom
or above and choose
from either:
$100 per stateroom
onboard credit
or
250 minute internet
package onboard
or
A Speciality dining package
on board in 3 restaurants
FREE
ALL INCLUSIVE
DRINKS PACKAGE
ON-BOARD#