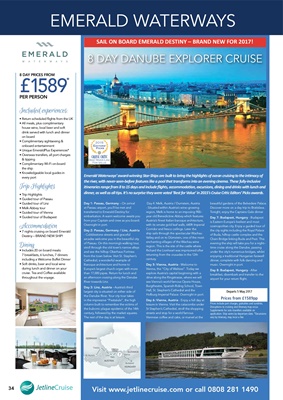 Visit www.jetlinecruise.com or call 0808 281 1490
Included experiences:
• Return scheduled flights from the UK
• All meals, plus complimentary
house wine, local beer and soft
drink served with lunch and dinner
on board
• Complimentary sightseeing &
onboard entertainment
• Unique EmeraldPlus Experiences*
• Overseas transfers, all port charges
& tipping
• Complimentary Wi-Fi on-board
the ship
• Knowledgeable local guides in
every port
Trip Highlights
• Trip Highlights
• Guided tour of Passau
• Guided tour of Linz
• Melk Abbey tour
• Guided tour of Vienna
• Guided tour of Budapest
Accommodation• 7 nights cruising on board Emerald
Destiny - BRAND NEW SHIP!
Dining • Includes 20 on board meals:
7 breakfasts, 6 lunches, 7 dinners
including a Welcome Buffet Dinner
• Soft drinks, beer and local wine
during lunch and dinner on your
cruise. Tea and Coffee available
throughout the voyage.
8 DAY PRICES FROM
£1589*
PER PERSON EMERALD WATERWAYS
Departs 5 May 2017
Prices from £1589pp
Prices include port charges, gratuities and sundries.
Disruptions to cruising and itinerary may occur.
Supplements for solo travellers available on
application. Ship varies by departure date. *Excursions
vary by itinerary, may incur a fee.
Day 1: Passau, Germany - On arrival
at Passau airport, you'll be met and
transferred to Emerald Destiny for
embarkation. A warm welcome awaits you
from your Captain and crew as you board.
Overnight in port.
Day 2: Passau, Germany / Linz, Austria
- Cobblestone streets and graceful
arcades welcome you in the beautiful city
of Passau. On this morning's walking tour,
stroll through the old town's narrow alleys
and see the hilltop Oberhaus Fortress
from the town below. Visit St. Stephen's
Cathedral, a wonderful example of
Baroque architecture and home to
Europe's largest church organ with more
than 17,000 pipes. Return for lunch and
an afternoon cruising along the Danube
River towards Linz.
Day 3: Linz, Austria - Austria's third
largest city is situated on either side of
the Danube River. Your city tour takes
in the impressive "Pestsäule", the high
column built to remember the victims of
the bubonic plague epidemic of the 14th
century, followed by the market squares.
The rest of the day is at leisure.
Day 4: Melk, Austria / Durnstein, Austria
- Situated within Austria's wine-growing
region, Melk is home to an imposing 900-
year old Benedictine Abbey which features
Austria's finest Italian baroque architecture,
with its ornate gold leaf walls, 640ft Imperial
Corridor and fresco ceilings. Later the
ship sails through the spectacular Wachau
Valley and on to Dürnstein, one of the most
enchanting villages of the Wachau wine
region. This is the site of the castle where
Richard the Lionheart was imprisoned after
returning from the crusades in the 12th
century.
Day 5: Vienna, Austria - Welcome to
Vienna, the "City of Waltzes". Today we
explore Austria's capital beginning with a
drive along the Ringstrasse, where we will
see Vienna's world famous Opera House,
Burgtheatre, Spanish Riding School, Town
Hall, St. Stephen's Cathedral and the
Hofburg Imperial Palace. Overnight in port.
Day 6: Vienna, Austria - Enjoy a full day at
leisure in Vienna. Visit the catacombs under
St Stephen's Cathedral, stroll the shopping
streets and stop for a world famous
Viennese coffee and cake, or marvel at the
beautiful gardens of the Belvedere Palace.
Discover more on a day trip to Bratislava.
Tonight, enjoy the Captains Gala dinner
Day 7: Budapest, Hungary - Budapest
is Eastern Europe's liveliest and most
cosmopolitan city. Enjoy a guided tour of
the city sights including the Royal Palace
of Buda, hilltop castle complex and the
Chain Bridge linking Buda and Pest. This
evening the ship will take you for a night-
time cruise along the Danube, passing
under the city's numerous bridges, whilst
enjoying a traditional Hungarian farewell
dinner, complete with folk dancing and
music. Overnight in port.
Day 8: Budapest, Hungary - After
breakfast, disembark and transfer to the
airport for your return flight.
34
Emerald Waterways' award-winning Star-Ships are built to bring the highlights of ocean cruising to the intimacy of
the river, with never-seen-before features like a pool that transforms into an evening cinema. These fully-inclusive
itineraries range from 8 to 15 days and include flights, accommodation, excursions, dining and drinks with lunch and
dinner, as well as all tips. It's no surprise they were voted 'Best for Value' in 2015's Cruise Critic Editors' Picks awards.
EMERALD
WATERWAYS
SAIL ON BOARD EMERALD DESTINY - BRAND NEW FOR 2017!
8 DAY DANUBE EXPLORER CRUISE