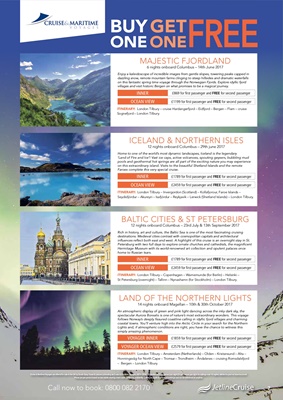 Cruise & Maritime Voyages are offered for sale in the UK by South Quay Travel & Leisure Ltd trading as Cruise & Maritime Voyages. ABTA V9945. Gratuities at £5 per person per night (£4 per person per night for sailings over 16 nights) debited to your on board account.
Prices are per person based on two adults sharing a twin cabin, subject to availability. Offers are applicable to new bookings and can be withdrawn at anytime.
MAJESTIC FJORDLAND
6 nights onboard Columbus - 14th June 2017
Enjoy a kaleidoscope of incredible images from gentle slopes, towering peaks capped in
dazzling snow, remote mountain farms clinging to steep hillsides and dramatic waterfalls
on this fantastic spring time voyage through the Norwegian Fjords. Explore idyllic fjord
villages and visit historic Bergen on what promises to be a magical journey.
ITINERARY: London Tilbury - cruise Hardangerfjord - Eidfjord - Bergen - Flam - cruise
Sognefjord - London Tilbury.
BALTIC CITIES & ST PETERSBURG
12 nights onboard Columbus - 23rd July & 13th September 2017
Rich in history, art and culture, the Baltic Sea is one of the most fascinating cruising
destinations. Medieval cities contrast with cosmopolitan capitals and architectural
influences reflect both east and west. A highlight of this cruise is an overnight stay in St.
Petersburg with two full days to explore ornate churches and cathedrals, the magnificent
Hermitage Museum with its world-renowned art collection and opulent palaces once
home to Russian tsars.
LAND OF THE NORTHERN LIGHTS
14 nights onboard Magellan - 10th & 30th October 2017
An atmospheric display of green and pink light dancing across the inky dark sky, the
spectacular Aurora Borealis is one of nature's most extraordinary wonders. This voyage
follows Norway's deeply fissured coastline calling in idyllic fjord villages and charming
coastal towns. You'll venture high into the Arctic Circle in your search for the Northern
Lights and, if atmospheric conditions are right, you have the chance to witness this
simply amazing phenomenon.
ICELAND & NORTHERN ISLES
12 nights onboard Columbus - 29th june 2017
Home to one of the world's most dynamic landscapes, Iceland is the legendary
'Land of Fire and Ice'! Vast ice caps, active volcanoes, spouting geysers, bubbling mud
pools and geothermal hot springs are all part of the exciting nature you may experience
on this extraordinary island. Visits to the beautiful Shetland Islands and the remote
Faroes complete this very special cruise.
OCEAN VIEW £1199 for first passenger and FREE for second passenger
INNER £869 for first passenger and FREE for second passenger
FREE
BUY
ONE GET
ONE
7
Call now to book: 0800 082 2170
ITINERARY: London Tilbury - Invergordon (Scotland) - Kollafjorour, Faroe Islands -
Seydisfjördur - Akureyri - Isafjördur - Reykjavik - Lerwick (Shetland Islands) - London Tilbury.
ITINERARY: London Tilbury - Copenhagen - Warnemunde (for Berlin) - Helsinki -
St Petersburg (overnight) - Tallinn - Nynashamn (for Stockholm) - London Tilbury.
ITINERARY: London Tilbury - Amsterdam (Netherlands) - Olden - Kristansund - Alta -
Honningsvåg for North Cape - Tromsø - Trondheim - Åndalsnes - cruising Romsdalsfjord
- Bergen - London Tilbury.
OCEAN VIEW £2459 for first passenger and FREE for second passenger
OCEAN VIEW £2459 for first passenger and FREE for second passenger
VOYAGER OCEAN VIEW £2579 for first passenger and FREE for second passenger
INNER £1789 for first passenger and FREE for second passenger
INNER £1789 for first passenger and FREE for second passenger
VOYAGER INNER £1859 for first passenger and FREE for second passenger