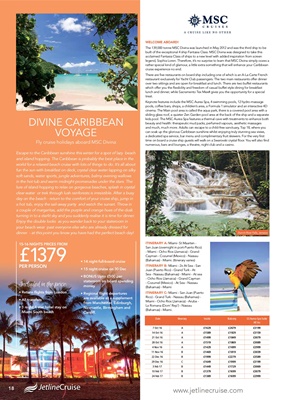 WELCOME ABOARD!
The 139,000 tonne MSC Divina was launched in May 2012 and was the third ship to be
built of the exceptional 4 ship Fantasia Class. MSC Divina was designed to take this
acclaimed Fantasia Class of ships to a new level with added inspiration from screen
legend, Sophia Loren. Therefore, it's no surprise to learn that MSC Divina simply oozes a
rather special kind of glamour, a little extra something that will enhance your Caribbean
cruise experience no end.
There are five restaurants on board ship including one of which is an A-La-Carte French
restaurant exclusively for Yacht Club passengers. The two main restaurants offer dinner
over two sittings and are open for breakfast and lunch. There are two buffet restaurants
which offer you the flexibility and freedom of casual buffet style dining for breakfast
lunch and dinner; while Sacramento Tex Mex# gives you the opportunity for a special
treat.
Keynote features include the MSC Aurea Spa, 4 swimming pools, 12 hydro-massage
pools, coffee bars, shops, a children's area, a Formula 1 simulator and an interactive 4D
cinema. The Main pool area is called the aqua park, there is a covered pool area with a
sliding glass roof, a quieter Zen Garden pool area at the back of the ship and a separate
kids pool. The MSC Aurea Spa features a thermal cave with treatments to enhance both
beauty and health: therapeutic mud packs, perfumed vapours, aesthetic massages
and much, much more. Adults can escape to a child-free sanctuary, Top 18, where you
can soak up the glorious Caribbean sunshine whilst enjoying truly stunning sea views,
a dedicated spa service, bar menu and complimentary fruit skewers. For the very first
time on board a cruise ship guests will walk on a Swarovski crystal floor. You will also find
numerous, bars and lounges, a theatre, night club and a casino.
DIVINE CARIBBEAN
VOYAGE
Fly cruise holidays aboard MSC Divina
Escape to the Caribbean sunshine this winter for a spot of lazy beach
and island hopping. The Caribbean is probably the best place in the
world for a relaxed beach cruise with lots of things to do. It's all about
fun the sun with breakfast on deck, crystal clear water lapping on silky
soft sands, water sports, jungle adventures, balmy evening wallows
in the hot tub and warm midnight promenades under the stars. The
lure of island hopping to relax on gorgeous beaches, splash in crystal
clear water or trek through lush rainforests is irresistible. After a busy
day on the beach - return to the comfort of your cruise ship, jump in
a hot tub, enjoy the sail-away party and watch the sunset. Throw in
a couple of margaritas, add the purple and orange hues of the dusk
turning in to a starlit sky and you suddenly realise it is time for dinner.
Enjoy the double looks as you wander back to your stateroom in
your beach wear past everyone else who are already dressed for
dinner - at this point you know you have had the perfect beach day!
Included in the price:
• Return flights from London
• All transfers
• 1 night 4-star hotel stay on
Miami South beach
15-16 NIGHTS PRICES FROM
£1379PER PERSON
18
• 14 night full-board cruise
• 15 night cruise on 30 Dec
• BONUS Upto £500 per
stateroom on board spending
money
• Regional flight departures
are available at a supplement
from Manchester, Edinburgh,
Newcastle, Birmingham and
Cardiff.
ITINERARY A: Miami- St Maarten -
San Juan (overnight in port-Puerto Rico)
- Miami - Ocho Rios (Jamaica) - Grand
Cayman - Cozumel (Mexico) - Nassau
(Bahamas) - Miami. (Itinerary varies)
ITINERARY B: Miami - 2x At Sea - San
Juan (Puerto Rico) - Grand Turk - At
Sea - Nassau (Bahamas) - Miami - At sea
- Ocho Rios (Jamaica) - Grand Cayman
- Cozumel (Mexico) - At Sea - Nassau
(Bahamas) - Miami
ITINERARY C: Miami - San Juan (Puerto
Rico) - Grand Turk - Nassau (Bahamas) -
Miami - Ocho Rios (Jamaica) - Aruba -
La Romana (Dom' Rep') - Nassau
(Bahamas) - Miami.
Dunn's River Falls, Jamaica
Date Itinerary Inside Balcony S3 Aurea Spa Suite
All Inc
7 Oct 16 A £1629 £2679 £3199
14 Oct 16 A £1589 £1929 £3159
21 Oct 16 A £1499 £1849 £3079
28 Oct 16 A £1519 £1869 £3089
4 Nov 16 A £1429 £1699 £2999
11 Nov 16 B £1469 £1819 £3039
22 Dec 16 B £1999 £2279 £3589
29 Dec 16 C £1649 £1999 £3199
3 Feb 17 B £1449 £1729 £3069
10 Feb 17 B £1379 £1699 £3079
24 Feb 17 B £1389 £1699 £2999