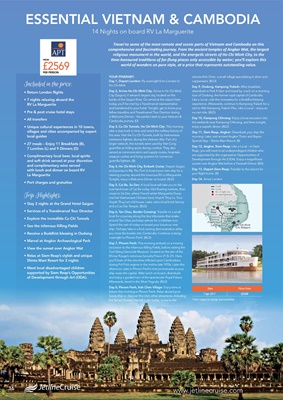 ESSENTIAL VIETNAM & CAMBODIA
14 Nights on board RV La Marguerite
Travel to some of the most remote and scenic parts of Vietnam and Cambodia on this
comprehensive and fascinating journey. From the ancient temples of Angkor Wat, the largest
religious monument in the world, and the energetic streets of Ho Chi Minh City, to the
time-honoured traditions of far-flung places only accessible by water; you'll explore this
world of wonders on pure style, at a price that represents outstanding value.
Included in the price:
• Return London flights
• 7 nights relaxing aboard the
RV La Marguerite
• Pre & post cruise hotel stays
• All transfers
• Unique cultural experiences in 10 towns,
villages and cities accompanied by expert
local guides
• 27 meals - Enjoy 11 Breakfasts (B),
7 Lunches (L) and 9 Dinners (D)
• Complimentary local beer, local spirits
and soft drink served at your discretion
and complimentary wine served
with lunch and dinner on board RV
La Marguerite
• Port charges and gratuities
Trip Highlights:
• Stay 2 nights at the Grand Hotel Saigon
• Services of a Travelmarvel Tour Director
• Explore the incredible Cu Chi Tunnels
• See the infamous Killing Fields
• Receive a Buddhist blessing in Oudong
• Marvel at Angkor Archaeological Park
• View the sunset over Angkor Wat
• Relax at Siem Reap's stylish and unique
Shinta Mani Resort for 2 nights
• Meet local disadvantaged children
supported by Siem Reap's Opportunities
of Development through Art (ODA).
YOUR ITINERARY:
Day 1, Depart London: Fly overnight from London to
Ho Chi Minh
Day 2, Arrive Ho Chi Minh City: Arrive in Ho Chi Minh
City (Saigon), V ietnam's largest city, located on the
banks of the Saigon River. On arrival at the airport here
today, you'll be met by a Travelmarvel representative
and transferred to your hotel. Tonight, get to know your
fellow travellers and Travelmarvel Tour Director during
a Welcome Dinner - the perfect start to your Vietnam &
Cambodia journey. (D)
Day 3, Cu Chi Tunnels, Ho Chi Minh City: This morning
take a step back in time and revisit the military history of
the area. Visit the Cu Chi Tunnels, built by Vietnamese
resistance fighters during the Vietnam War. Part of a
larger network, the tunnels were used by Viet Cong
guerrillas as hiding spots during combat. They also
served as communication and supply routes, hospitals,
weapon caches and living quarters for numerous
guerrilla fighters. (B)
Day 4, Ho Chi Minh City, Embark Cruise: Depart Saigon
and journey to My Tho Port to board your river ship for a
relaxing journey aboard the luxurious RV La Marguerite.
Tonight, enjoy a Welcome Dinner on board. (BLD)
Day 5, Cai Be, Sa Dec: A local boat will take you to the
river-land town of Cai Be today. Visit floating markets, then
cruise to Sa Dec, where French writer Marguerite Duras
met her Vietnamese-Chinese lover, Huynh Thuy Le. Tour
Huynh Thuy Le's old house. Later, visit a local brick factory
and a Cao Dai Temple. (BLD)
Day 6, Tan Chau, Border Crossing: Transfer to a small
boat for a journey along the tiny tributaries that snake
around Tan Chau and step ashore for a rickshaw tour.
Spend the rest of today on board your luxurious river
ship. Perhaps take in a fruit-carving demonstration while
you cross the border into Cambodia. Continue cruising
overnight to Phnom Penh. (BLD)
Day 7, Phnom Penh: This morning embark on a moving
excursion to the infamous Killing Fields, before visiting the
Tuol Sleng Genocide Museum, located on the site of the
Khmer Rouge's notorious Security Prison 21 (S-21). Here,
you'll learn of the atrocities inflicted upon Cambodians
during Pol Pot's regime in the mid-to-late 1970s. Later this
afternoon, take in Phnom Penh's river promenade as your
ship nears the capital. After lunch on board, disembark
and enjoy a guided tour of the spectacular Royal Palace.
Afterwards, head to the Silver Pagoda. (BLD)
Day 8, Phnom Penh, Koh Chen Village: Enjoy time at
leisure this morning in Phnom Penh. Relax aboard your
luxury ship or discover the city's other attractions, including
the famed Russian market. Later today, cruise to the
remote Koh Chen, a small village specialising in silver and
copperware. (BLD)
Day 9, Oudong, Kampong Tralach: After breakfast,
disembark in Prek K'dam and travel by coach on a morning
tour of Oudong, the former royal capital of Cambodia.
Like a Local -visit the monastery for a Buddha blessing
experience. Afterwards, continue to Kampong Tralach for a
visit to Wat Kampong Tralach Pleu. Like a Local - enjoy an
ox-cart ride. (BLD)
Day 10, Kampong Chhnang: Enjoy a boat excursion into
the wetlands near Kampong Chhnang, and then tonight,
enjoy a superb dinner. (BLD)
Day 11, Siem Reap, Angkor: Disembark your ship this
morning. Later, visit ancient Angkor Thom and Bayon.
Special Stay - Shinta Mani Resort. (B)
Day 12, Angkor, Siem Reap: Like a Local - in Siem
Reap, you will meet local underprivileged children who
are supported by the organization Opportunities of
Development through Art (ODA). Enjoy a magnificent
sunset over Angkor Wat before a Farewell Dinner. (BD)
Day 13, Depart Siem Reap: Transfer to the airport for
your flight home. (B)
Day 14. Arrive London
36
FROM
£2569 PER PERSON
Date Prices From
1 Apr 2017 £2569
*Tours subject to change and availability.