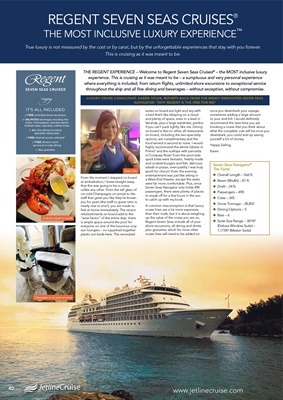 REGENT SEVEN SEAS CRUISES
®
THE MOST INCLUSIVE LUXURY EXPERIENCE
™
True luxury is not measured by the cost or by carat, but by the unforgettable experiences that stay with you forever.
This is cruising as it was meant to be.
40
THE REGENT EXPERIENCE - Welcome to Regent Seven Seas Cruises® - the MOST inclusive luxury
experience. This is cruising as it was meant to be - a sumptuous and very personal experience
where everything is included, from return flights, unlimited shore excursions to exceptional service
throughout the ship and all fine dining and beverages - without exception, without compromise.
From the moment I stepped on board
at embarkation, I knew straight away
that this was going to be a cruise
unlike any other. From the tall glass of
ice cold Champagne on arrival to the
staff that greet you like they've known
you for years (the staff to guest ratio is
nearly one to one!), you are made to
feel at home immediately. The recent
refurbishments on board add to the
"wow-factor" of the entire ship; there
is ample space around the pool for
everyone on one of the luxurious cozy
sun loungers - no squashed together
plastic sun beds here. The renovated
suites on board are light and airy with
a bed that's like sleeping on a cloud
and plenty of space, even in a lead in
Veranda, plus a large wardrobe; perfect
if you can't pack lightly, like me. Dining
on board is like no other, all restaurants
on board, including the two speciality
options, are complimentary and the
food served is second to none. I would
highly recommend the whole lobster in
Prime7 and the scallops with pancetta
in Compass Rose! Even the pool-side
quick bites were fantastic, freshly made
and cooked burgers and fish, delicious
salads or pizzas, even paella; I was truly
spoilt for choice! Even the evening
entertainment was just like sitting in
a West-End theatre, except the seats
were far more comfortable. Plus, since
Seven Seas Navigator only holds 490
passengers, there were plenty of places
to sneak off for a few hours in the sun
to catch up with my book.
A common misconception is that luxury
cruise lines are a lot more expensive
than their rivals, but it is about weighing
up the value of the cruise you are on,
Regent Seven Seas include all of your
shore excursions, all dining and drinks
plus gratuities; which for most other
cruise lines will need to be added on
once you disembark your voyage,
sometimes adding a large amount
to your end bill. I would definitely
recommend the next time you are
booking a cruise that you think about
what the complete cost will be once you
disembark, you could end up saving
yourself a lot of money.
Happy Sailing,
Karen
LUXURY CRUISE CONSULTANT, KAREN TITLER, REPORTS BACK FROM THE NEWLY RENOVATED SEVEN SEAS
NAVIGATOR: "WHY REGENT IS THE ONE FOR ME"
Seven Seas Navigator®
The Facts:
❖ Overall Length - 566 ft.
❖ Beam (Width) - 81 ft.
❖ Draft - 24 ft.
❖ Passengers - 490
❖ Crew - 345
❖ Gross Tonnage - 28,803
❖ Dining Options - 5
❖ Bars - 6
❖ Suite Size Range - 301ft²
(Deluxe Window Suite) -
1,173ft² (Master Suite)
Karen Titler
Champagne in my suite on arrival
A whole Lobster to myself!
IT'S ALL INCLUDED
3 FREE unlimited shore excursions
3 UNLIMITED beverages including fine
wines, Champagnes, branded spirits,
bottled water, speciality coffees & tea
3 ALL fine dining including
speciality restaurants
3 FREE internet access onboard^
3 FREE 24-hour room
service & in-suite dining
3 ALL gratuities
IT'S ALL INCLUDED
3 FREE unlimited shore excursions
3 UNLIMITED beverages including fine
wines, Champagnes, branded spirits,
bottled water, speciality coffees & tea
3 ALL fine dining including
speciality restaurants
3 FREE internet access onboard^
3 FREE 24-hour room
service & in-suite dining
3 ALL gratuities