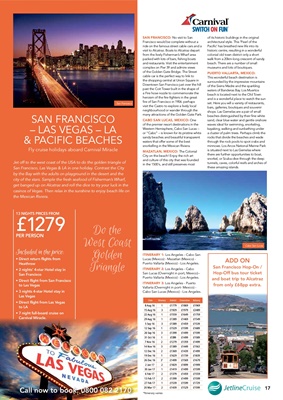 SAN FRANCISCO
- LAS VEGAS - LA
& PACIFIC BEACHES
Fly cruise holidays aboard Carnival Miracle
Jet off to the west coast of the USA to do the golden triangle of
San Francisco, Las Vegas & LA in one holiday. Contrast the City
by the Bay with the adults on playground in the desert and the
city of the stars. Sample the fresh seafood of Fisherman's Wharf,
get banged up on Alcatraz and roll the dice to try your luck in the
casinos of Vegas. Then relax in the sunshine to enjoy beach life on
the Mexican Riviera.
Included in the price:
• Direct return flights from
Heathrow
• 2 nights' 4-star Hotel stay in
San Francisco
• Direct flight from San Francisco
to Las Vegas
• 3 nights 4-star Hotel stay in
Las Vegas
• Direct flight from Las Vegas
to LA
• 7 night full-board cruise on
Carnival Miracle.
13 NIGHTS PRICES FROM
£1279PER PERSON
SAN FRANCISCO: No visit to San
Francisco would be complete without a
ride on the famous street cable cars and a
visit to Alcatraz. Boats to Alcatraz depart
from the lively Fisherman's Wharf area
packed with lots of bars, fishing boats
and restaurants. Visit the entertainment
complex on Pier 39 and admire views
of the Golden Gate Bridge. The Street
cable car is the perfect way to link to
the shopping central at Union Square in
Downtown San Francisco just over the hill
past the Coit Tower built in the shape of
a Fire hose nozzle to commemorate the
heroism of the fire-fighters in the great
fire of San Francisco in 1906. perhaps
visit the Castro to explore a lively local
neighbourhood or wander through the
many attractions of the Golden Gate Park.
CABO SAN LUCAS, MEXICO: One
of the premier resort destinations in the
Western Hemisphere, Cabo San Lucas -
or "Cabo" - is known for its pristine white
sandy beaches and beautiful transparent
waters that offer some of the best
snorkelling in the Mexican Riviera.
MAZATLAN, MEXICO: The Colonial
City on the beach! Enjoy the rich art
and culture of this city that was founded
in the 1500´s, and still preserves most
of its historic buildings in the original
architectural style. This 'Pearl of the
Pacific' has breathed new life into its
historic centre, resulting in a wonderful
colonial old town district only a short
walk from a 20km-long crescent of sandy
beach. There are a number of small
museums and lots of boutiques.
PUERTO VALLARTA, MEXICO:
This wonderful beach destination is
surrounded by the impressive mountains
of the Sierra Madre and the sparkling
waters of Banderas Bay. Los Muertos
beach is located next to the Old Town
and is a wonderful place to watch the sun
set. Here you will a variety of restaurants,
bars, galleries, boutiques and souvenir
shops. Las Gemelas are a pair of small
beaches distinguished by their fine white
sand, clear blue water and gentle onshore
waves ideal for swimming, snorkeling,
kayaking, walking and sunbathing under
a cluster of palm trees. Perhaps climb the
rocks that divide the beaches and wade
through the rock pools to spot crabs and
minnows. Los Arcos National Marine Park
is situated next to Las Gemelas where
there are further opportunities to boat,
snorkel, or Scuba-dive through the deep
tunnels, caves, colorful reefs and arches of
these amazing islands.
17
Call now to book: 0800 082 2170
San Francisco
Do the
West Coast
Golden
Triangle
Date Itinerary Interior Oceanview Balcony
8 Aug 16 1 £1779 £1869 £1969
15 Aug 16 3 £1929 £1979 £2489
22 Aug 16 1 £1559 £1649 £1759
29 Aug 16 1 £1389 £1469 £1549
5 Sep 16 3 £1389 £1459 £1539
12 Sep 16 1 £1529 £1599 £1689
26 Sep 16 3 £1399 £1499 £1599
31 Oct 16 1 £1399 £1499 £1589
7 Nov 16 2 £1279 £1359 £1499
14 Nov 16 3 £1389 £1449 £1563
12 Dec 16 2 £1369 £1439 £1499
19 Dec 16 1 £1629 £1739 £1839
26 Dec 16 3* £1499 £1569 £1679
2 Jan 17 2 £1829 £1899 £1999
30 Jan 17 1 £1419 £1499 £1599
6 Feb 17 2 £1379 £1459 £1559
13 Feb 17 2 £1399 £1499 £1599
27 Feb 17 1 £1539 £1599 £1729
20 Mar 17 2 £1439 £1529 £1599
*Itinerary varies
ITINERARY 1: Los Angeles - Cabo San
Lucas (Mexico) - Mazatlan (Mexico) -
Puerto Vallarta (Mexico) - Los Angeles.
ITINERARY 2: Los Angeles - Cabo
San Lucas (Overnight in port, Mexico)--
Puerto Vallarta (Mexico) - Los Angeles.
ITINERARY 3: Los Angeles - Puerto
Vallarta (Overnight in port- Mexico) -
Cabo San Lucas (Mexico) - Los Angeles.
ADD ON
San Francisco Hop-On /
Hop-Off bus tour ticket
and boat trip to Alcatraz
from only £68pp extra.
Cabo San Lucas