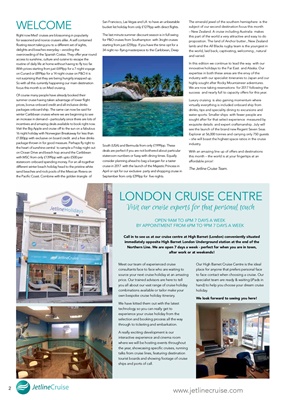 2 WELCOME
Right now Med' cruises are blossoming in popularity
for seasoned and novice cruisers alike. A self contained
floating resort taking you to a different set of sights,
delights and beaches everyday - avoiding the
overcrowding of the Spanish Costas. They offer year round
access to sunshine, culture and cuisine to escape the
routine of daily life at home without having to fly too far.
With prices starting from just £699pp for a 7 night voyage
on Cunard or £899pp for a 14 night cruise on P&O it is
not surprising that they are being hungrily snapped up.
So with all this currently happening our main destination
focus this month is on Med cruising.
Of course many people have already booked their
summer cruise having taken advantage of lower flight
prices, bonus onboard credit and all-inclusive drinks
packages onboard ship. The same can now be said for
winter Caribbean cruises where we are beginning to see
an increase in demand - particularly since there are lots of
incentives and amazing deals available to book right now.
Visit the Big Apple and cruise off to the sun on a fabulous
16 night holiday with Norwegian Breakaway for less than
£1300pp with exclusive on board credit and a free drinks
package thrown in for good measure. Perhaps fly right to
the heart of sunshine central to sample a Friday night out
on Ocean Drive and beach hop around the Caribbean
with MSC from only £1399pp with upto £500 per
stateroom onboard spending money. For an all-together
different winter beach holiday head to the pristine white
sand beaches and rock pools of the Mexican Riviera on
the Pacific Coast. Combine with the golden triangle of
San Francisco, Las Vegas and LA to have an unbeatable
bucket list holiday from only £1279pp with direct flights.
The last minute summer discount season is in full swing
for P&O cruises from Southampton with 3night cruises
starting from just £259pp. If you have the time opt for a
34 night no- flying masterpiece to the Caribbean, Deep
South (USA) and Bermuda from only £1999pp. These
deals are perfect if you are not bothered about particular
stateroom numbers or fussy with dining times. Equally
consider planning ahead to bag a bargain for a taster
cruise in 2017 with the launch of the Majestic Princess in
April or opt for our exclusive party and shopping cruise in
September from only £299pp for five nights.
The emerald jewel of the southern hemisphere is the
subject of our second destination focus this month
- New Zealand. A cruise including Australia makes
this part of the world a very attractive and easy to do
proposition. The land of Anchor butter , New Zealand
lamb and the All Blacks rugby team is the youngest in
the world, laid back, captivating, welcoming , natural
and varied.
In this edition we continue to lead the way with our
innovative holidays to the Far East and Alaska. Our
expertise in both these areas are the envy of the
industry with our specialist itineraries to Japan and our
highly sought after Rocky Mountaineer adventures.
We are now taking reservations for 2017 following the
success and nearly full to capacity offers for this year.
Luxury cruising is also gaining momentum where
virtually everything is included onboard ship from
drinks, tips and speciality dining to excursions and
water sports. Smaller ships with fewer people are
sought after for that select experience measured by
exquisite details and expert craftsmanship. July will
see the launch of the brand new Regent Seven Seas
Explorer at 56,000 tonnes and carrying only 750 guests
- she will boast the highest space ratios in the cruise
industry.
With an amazing line up of offers and destinations
this month - the world is at your fingertips at an
affordable price!
The Jetline Cruise Team.
Call in to see us at our cruise centre at High Barnet (London) conveniently situated
immediately opposite High Barnet London Underground station at the end of the
Northern Line. We are open 7 days a week - perfect for when you are in town,
after work or at weekends!
Meet our team of experienced cruise
consultants face to face who are waiting to
source your next cruise holiday at an amazing
price. Our trained advisors are here to tell
you all about our vast range of cruise holiday
combinations available or tailor make your
own bespoke cruise holiday itinerary.
We have kitted them out with the latest
technology so you can really get to
experience your cruise holiday from the
selection and booking process all the way
through to ticketing and embarkation.
A really exciting development is our
interactive experience and cinema room
where we will be hosting events throughout
the year, showcasing specific cruises, running
talks from cruise lines, featuring destination
tourist boards and showing footage of cruise
ships and ports of call.
Our High Barnet Cruise Centre is the ideal
place for anyone that prefers personal face
to face contact when choosing a cruise. Our
specialist team are ready & waiting (iPads in
hand) to help you choose your dream cruise
holiday.
We look forward to seeing you here!
OPEN 9AM TO 6PM 7 DAYS A WEEK
BY APPOINTMENT FROM 6PM TO 9PM 7 DAYS A WEEK
LONDON CRUISE CENTRE
Visit our cruise experts for that personal touch