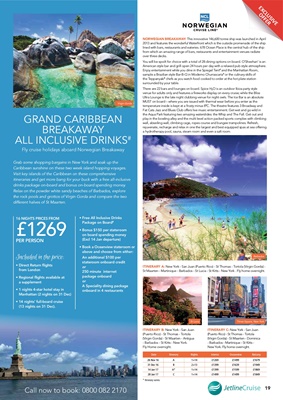 GRAND CARIBBEAN
BREAKAWAY
ALL INCLUSIVE DRINKS#
Fly cruise holidays aboard Norwegian Breakaway
Grab some shopping bargains in New York and soak up the
Caribbean sunshine on these two week island hopping voyages.
Visit key islands of the Caribbean on these comprehensive
itineraries and get more bang for your buck with a free all-inclusive
drinks package on-board and bonus on-board spending money.
Relax on the powder white sandy beaches of Barbados, explore
the rock pools and grottos of Virgin Gorda and compare the two
different halves of St Maarten.
Included in the price:
• Direct Return flights
from London
• Regional flights available at
a supplement
• 1 nights 4-star hotel stay in
Manhattan (2 nights on 31 Dec)
• 14 nights' full-board cruise
(13 nights on 31 Dec).
• Free All Inclusive Drinks
Package on Board#
• Bonus $150 per stateroom
on board spending money
(Excl 14 Jan departure)
• Book a Oceanview stateroom or
above and choose from either:
An additional $100 per
stateroom onboard credit
or
250 minute internet
package onboard
or
A Speciality dining package
onboard in 4 restaurants
16 NIGHTS PRICES FROM
£1269PER PERSON
NORWEGIAN BREAKAWAY: This innovative 146,600 tonne ship was launched in April
2013 and features the wonderful Waterfront which is the outside promenade of the ship
lined with bars, restaurants and eateries. 678 Ocean Place is the central hub of the ship
from which an amazing range of bars, restaurants and entertainment venues radiate
over three decks.
You will be spoilt for choice with a total of 28 dining options on board. O'Sheehan' is an
American style bar and grill open 24 hours per day with a relaxed pub style atmosphere.
Enjoy entertainment while you dine in the Spiegel Tent# and the Manhattan Room,
sample a Brazilian style Bar-B-Q in Moderno Churrascaria# or the culinary skills of
the Teppanyaki# chefs as you watch food cooked to order at the hot plate station
surrounded by your table.
There are 22 bars and lounges on board. Spice H2O is an outdoor Ibiza party style
venue for adults only and features a fireworks display on every cruise; while the Bliss
Ultra Lounge is the late night clubbing venue for night owls. The Ice Bar is an absolute
MUST on board - where you are issued with thermal wear before you enter as the
temperature inside is kept at a frosty minus 80C. The theatre features 3 Broadway and
Fat Cats Jazz and Blues Club offers live music entertainment. Get wet and go wild in
the Aqua Park featuring two amazing waterslides: the Whip and The Fall. Get out and
play in the bowling alley and the multi level action packed sports complex with climbing
wall, abseiling wall, climbing cage, ropes course and bungee trampolines. Refresh,
rejuvenate, recharge and relax in one the largest and best equipped spas at sea offering
a hydrotherapy pool, sauna, steam room and even a salt room.
19
Call now to book: 0800 082 2170
Virgin Gorda
Date Itinerary Nights Interior Oceanview Balcony
26 Nov 16 A 1+14 £1269 £1499 £1679
31 Dec 16 B 2+13 £1399 £1639 £1949
14 Jan 17 A* 1+14 £1399 £1599 £1869
28 Jan 17 C 1+14 £1499 £1499 £1849
* Itinerary varies
Barbados
ITINERARY A: New York - San Juan (Puerto Rico) - St Thomas - Tortola (Virgin Gorda) -
St Maarten - Martinique - Barbados - St Lucia - St Kitts - New York . Fly home overnight.
ITINERARY B: New York - San Juan
(Puerto Rico) - St Thomas - Tortola
(Virgin Gorda) - St Maarten - Antigua
- Barbados - St Kitts - New York.
Fly Home overnight.
ITINERARY C: New York - San Juan
(Puerto Rico) - St Thomas - Tortola
(Virgin Gorda) - St Maarten - Dominica
- Barbados - Martinique - St Kitts -
New York. Fly home overnight.
EXCLUSIVE
OFFER
Times Square, New York
St Lucia