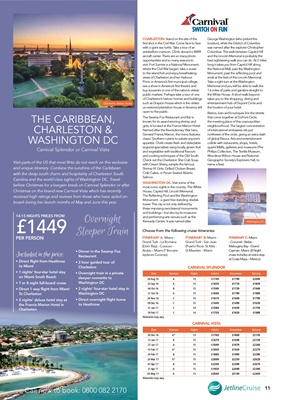 THE CARIBBEAN,
CHARLESTON &
WASHINGTON DC
Carnival Splendor or Carnival Vista
Visit parts of the US that most Brits do not reach on this exclusive
and unique itinerary. Combine the sunshine of the Caribbean
with the deep south charm and hospitality of Charleston South
Carolina and the world class sights of Washington DC. Travel
before Christmas for a bargain break on Carnival Splendor or after
Christmas on the brand new Carnival Vista which has recently
received high ratings and reviews from those who have sailed onboard
during her launch months of May and June this year.
Included in the price:
• Direct flight from Heathrow
to Miami
• 1 nights' four-star hotel stay
on Miami South Beach
• 7 or 8 night full-board cruise
• Direct 1 way flight from Miami
To Charleston
• 2 nights' deluxe hotel stay at
the Francis Marion Hotel in
Charleston
• Dinner in the Swamp Fox
Restaurant
• 2 hour guided tour of
Charleston
• Overnight train in a private
sleeper roomette to
Washington DC
• 2 nights' four-star hotel stay in
Washington DC
• Direct overnight flight home
to Heathrow.
14-15 NIGHTS PRICES FROM
£1449PER PERSON
CHARLESTON: Stand on the site of the
first shot in the Civil War. Come face to face
with a giant sea turtle. Take a tour of an
antebellum mansion. Climb aboard a WWII
aircraft carrier. There are so many photo
opportunities and so many reasons to
visit. Fort Sumter is a National Monument,
where the Civil War began; take a cruise
to the island fort and enjoy breathtaking
views of Charleston and her Harbour.
Picnic in America's first municipal college,
see a show in America's first theatre and
buy souvenirs in one of the nation's oldest
public markets. Perhaps take a tour of one
of Charleston's historic homes and buildings
such as Drayton House which is the oldest
un-restored plantation house in America still
open to the public.
The Swamp Fox Restaurant and Bar is
known for its award winning shrimp and
grits, is located at the Francis Marion Hotel.
Named after the Revolutionary War hero,
General Francis Marion, the menu features
classic Southern cuisine to satiate anyone's
appetite. Chefs create fresh and delectable
regional specialties using locally grown fruit
and vegetables with traditional flavours
and cooking techniques of the Old South.
Check out the Charleston She Crab Soup
with Cream Sherry, sample the famous
Shrimp N' Grits, Grilled Chicken Breast,
Crab Cakes, or Pecan Seared Atlantic
Salmon.
WASHINGTON DC. Visit some of the
most iconic sights in the country: The White
House, Capitol Hill, Lincoln Memorial,
The Reflecting Pool and the Washington
Monument - a giant free standing obelisk
tower. This city is not only defined by
these imposing neoclassical monuments
and buildings - but also by its museums
and performing-arts venues such as the
Kennedy Centre. It was named after
George Washington (who picked the
location), while the District of Columbia
was named after the explorer Christopher
Columbus. The walk between Capitol Hill
and the Lincoln Memorial is probably the
best sightseeing walk you can do. At 2 miles
long it takes you from Capitol Hill along
the National Mall, past the Washington
Monument, past the reflecting pool and
ends at the feet of the Lincoln Memorial.
Take a right turn at the Washington
Memorial and you will be able to walk the
1.6 miles of parks and gardens straight to
the White House. A short walk beyond
takes you to the shopping, dining and
entertainment hub of Dupont Circle and
the location of your hotel.
Bistros, bars and boutiques line the streets
that come together at DuPont Circle,
the meeting place of this cosmopolitan
neighbourhood. The largest concentration
of international embassies sits just
northwest of the circle, giving an extra dash
of global flavour. Arts and entertainment
collide with restaurants, shops, hotels,
quaint B&Bs, galleries and museums (The
Phillips Collection, The Textile Museum,
Woodrow Wilson House and National
Geographic Society's Explorers Hall, to
name a few).
11
Call now to book: 0800 082 2170
Charleston. Below: Aruba
Overnight
Sleeper Train
CARNIVAL SPLENDOR
Date Itinerary Nights Interior Oceanview Balcony
26 Aug 16 A 15 £1749 £1799 £2049
23 Sep 16 A 15 £1659 £1719 £1859
04 Oct 16 B 15 £1599 £1729 £1949
21 Oct 16 A 15 £1699 £1799 £1989
26 Nov 16 C 14 £1619 £1669 £1799
09 Dec 16 C 15 £1449 £1499 £1639
21 Jan 17 C 14 £1589 £1639 £1759
18 Feb 17 C 14 £1759 £1829 £1989
Itineraries may vary.
Washington DC
Choose from the following cruise itineraries:
ITINERARY A: Miami -
Grand Turk - La Romana
(Dom Rep) - Curacao -
Aruba - Miami.(* Bonaire
replaces Curacao)
ITINERARY B: Miami -
Grand Turk - San Juan
(Puerto Rico)- St Kitts -
St Maarten - Miami
ITINERARY C: Miami
- Cozumel - Belize -
Mahogany Bay - Grand
Cayman- Miami. (8 Night
cruise includes an extra stop
at Costa Maya - Mexico)
CARNIVAL VISTA
Date Itinerary Nights Interior Oceanview Balcony
30 Dec 16 A* 15 £1769 £1869 £2159
13 Jan 17 B 15 £1679 £1699 £2159
27 Jan 17 A 15 £1699 £1879 £2269
10 Feb 17 A* 15 £1839 £1929 £2279
24 Feb 17 B 15 £1889 £1999 £2299
24 Mar 17 A* 15 £2099 £2259 £2629
07 Apr 17 B 15 £2299 £2399 £2679
21 Apr 17 A 15 £1959 £2099 £2399
05 May 17 A 15 £2049 £2149 £2439
Itineraries may vary.