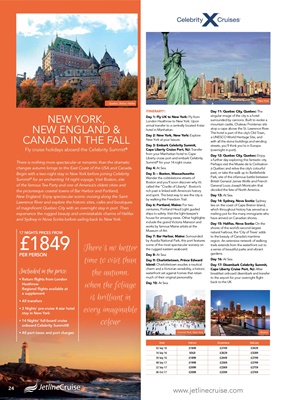 NEW YORK,
NEW ENGLAND &
CANADA IN THE FALL
Fly cruise holidays aboard the Celebrity Summit®
There is nothing more spectacular or romantic than the dramatic
changes autumn brings to the East Coast of the USA and Canada.
Begin with a two-night stay in New York before joining Celebrity
Summit® for an enchanting 14 night voyage. Visit Boston, site
of the famous Tea Party and one of America's oldest cities and
the picturesque coastal towns of Bar Harbor and Portland,
New England. Enjoy spectacular scenic cruising along the Saint
Lawrence River and explore the historic sites, cafes and boutiques
of magnificent Quebec City with an overnight stay in port. Then
experience the rugged beauty and unmistakable charms of Halifax
and Sydney in Nova Scotia before sailing back to New York.
ITINERARY*:
Day 1: Fly UK to New York: Fly from
London Heathrow to New York. Upon
arrival transfer to a centrally located 4-star
hotel in Manhattan.
Day 2: New York, New York: Explore
New York at your leisure.
Day 3: Embark Celebrity Summit,
Cape Liberty Cruise Port, NJ: Transfer
from your Manhattan hotel to Cape
Liberty cruise port and embark Celebrity
Summit® for your 14 night cruise.
Day 4: At Sea.
Day 5: - Boston, Massachusetts:
Wander the cobblestone streets of
Boston and you'll soon discover why it's
called the "Cradle of Liberty". Boston's
rich past is linked with America's history
and spirit. The best way to see the city is
by walking the Freedom Trail.
Day 6: Portland, Maine: For two
centuries, Portland Head Light guided
ships to safety. Visit the light-keeper's
house for amazing views. Other highlights
include the grand Victoria Mansion and
works by famous Maine artists at the
Museum of Art.
Day 7: Bar Harbor, Maine: Surrounded
by Acadia National Park, this port features
some of the most spectacular scenery on
the rugged eastern seaboard.
Day 8: At Sea.
Day 9: Charlottetown, Prince Edward
Island: Charlottetown exudes a nautical
charm and a Victorian sensibility, a historic
waterfront set against homes that retain
much of their original personality.
Day 10: At Sea.
Day 11: Quebec City, Quebec: The
singular image of the city is a hotel
surrounded by cannons. Built to evoke a
mountain castle, Chateau Frontenac sits
atop a cape above the St. Lawrence River.
The hotel is part of the city's Old Town,
a UNESCO World Heritage Site, and
with all the stone buildings and winding
streets, you'll think you're in Europe.
(overnight in port).
Day 12: Quebec City, Quebec: Enjoy
a further day exploring this fantastic city.
Perhaps visit the Musée de la Civilisation
à Québec and relive the city's colourful
past, or take the walk up to Battlefields
Park, site of the infamous battle between
British General James Wolfe and French
General Louis-Joseph Montcalm that
decided the fate of North America.
Day 13: At Sea.
Day 14: Sydney, Nova Scotia: Sydney
lies on the coast of Cape Breton Island,
which throughout history has served as a
melting pot for the many immigrants who
have arrived on Canadian shores.
Day 15: Halifax, Nova Scotia: On the
shores of the world's second-largest
natural harbour, the 'City of Trees' adds
to the beauty of Canada's maritime
region. An extensive network of walking
trails extends from the waterfront out to
a series of beautiful parks and vibrant
gardens.
Day 16: At Sea.
Day 17: Disembark Celebrity Summit,
Cape Liberty Cruise Port, NJ: After
breakfast onboard disembark and transfer
to the airport for your overnight flight
back to the UK.
Quebec. Below: Halifax
Included in the price:
• Return flights from London
Heathrow
Regional flights available at
a supplement
• All transfers
• 2 Nights' pre-cruise 4-star hotel
stay in New York
• 14 Nights' full-board cruise
onboard Celebrity Summit®
• All port taxes and port charges
17 NIGHTS PRICES FROM
£1849PER PERSON There's no better
time to visit than
the autumn,
when the foliage
is brilliant in
every imaginable
colour
Date Interior Oceanview Balcony
02 Sep 16 £1849 £2749 £3439
16 Sep 16 SOLD £2629 £3289
30 Sep 16 £1899 £2449 £2799
08 Sep 17 £1999 £2369 £2799
22 Sep 17 £2099 £2369 £2759
06 Oct 17 £2099 £2399 £2769
Central Park, New York Boston
New York
24