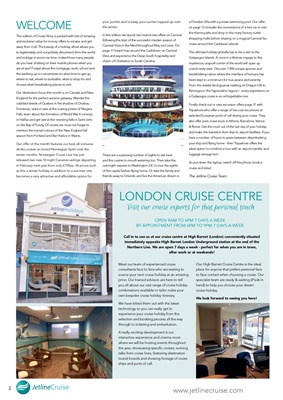 2 WELCOME
This edition of Cruise Ahoy is packed with lots of amazing
and exclusive value for money offers to escape and get
away from it all. The beauty of a holiday afloat allows you
to legitimately and completely disconnect from the world
and indulge in some me time- indeed how many people
do you hear chatting on their mobile phones when you
are at sea? Forget about the mortgage, work, school and
the washing up to concentrate on what time to get up,
where to eat, where to sunbathe, what to shop for and
choose what breathtaking places to visit.
Our destination focus this month is on Canada and New
England for the perfect autumn getaway. Wander the
cobbled streets of Quebec in the shadow of Chateau
Frontenac, stare in awe at the roaring power of Niagara
Falls, learn about the formation of World War II convoys
in Halifax and get wet at the reversing falls in Saint John
on the Bay of Fundy. Of course we must not forget to
mention the myriad colours of the New England fall
season from Portland and Bar Harbor in Maine.
Our offer of the month features our best all-inclusive
drinks cruises on board Norwegian Spirit over the
winter months. Norwegian Cruise Line has just
released two new 10 night Canaries sailings departing
in February next year from only £759pp. At prices such
as this a winter holiday in addition to a summer one
becomes a very attractive and affordable option for
your pocket and to keep your suntan topped up over
the winter.
In this edition we launch two brand new offers on Carnival
following the start of the successful maiden season of
Carnival Vista in the Med throughout May and June. On
page 11 beach hop around the Caribbean on Carnival
Vista and experience the Deep South hospitality and
charm of Charleston in South Carolina.
There are a surprising number of sights to see here
and the cuisine to mouth watering too. Then take the
overnight express to Washington DC to tour the sights
of the capital before flying home. Or take the family and
friends away to Orlando and live the American dream in
a Floridian Villa with a private swimming pool. Our offer
on page 12 includes the convenience of a hire car to visit
the theme parks and shop in the many factory outlet
shopping malls before relaxing on a magical Carnival fun
cruise around the Caribbean islands.
The ultimate holiday globally has to be a visit to the
Galapagos Islands. A once in a lifetime voyage to this
mysterious unspoilt corner of the world will open up
a land rarely seen. Discover 1,900 unique species and
breathtaking nature where the interface of humans has
been kept to a minimum for true peace and serenity.
From the stately land iguanas nestling on Dragon Hill to
flamingos in the hypersalinic lagoon - every experience on
a Galapagos cruise is an unforgettable one.
Finally check out or new excursion offers page 31 with
Tripashore who offer a range of low cost excursions at
selected European ports of call during your cruise. They
also offer post cruise tours in Athens, Barcelona, Venice
& Rome. Get the most out of the last day of your holiday
and make the transition from ship to airport faultless. If you
have a number of hours to spare between disembarking
your ship and flying home - then Tripashore offers the
ideal option to combine a tour with an airport transfer and
luggage storage too!
So put down the laptop, switch off the phone, book a
cruise and relax!
The Jetline Cruise Team.
Call in to see us at our cruise centre at High Barnet (London) conveniently situated
immediately opposite High Barnet London Underground station at the end of the
Northern Line. We are open 7 days a week - perfect for when you are in town,
after work or at weekends!
Meet our team of experienced cruise
consultants face to face who are waiting to
source your next cruise holiday at an amazing
price. Our trained advisors are here to tell
you all about our vast range of cruise holiday
combinations available or tailor make your
own bespoke cruise holiday itinerary.
We have kitted them out with the latest
technology so you can really get to
experience your cruise holiday from the
selection and booking process all the way
through to ticketing and embarkation.
A really exciting development is our
interactive experience and cinema room
where we will be hosting events throughout
the year, showcasing specific cruises, running
talks from cruise lines, featuring destination
tourist boards and showing footage of cruise
ships and ports of call.
Our High Barnet Cruise Centre is the ideal
place for anyone that prefers personal face
to face contact when choosing a cruise. Our
specialist team are ready & waiting (iPads in
hand) to help you choose your dream
cruise holiday.
We look forward to seeing you here!
OPEN 9AM TO 6PM 7 DAYS A WEEK
BY APPOINTMENT FROM 6PM TO 9PM 7 DAYS A WEEK
LONDON CRUISE CENTRE
Visit our cruise experts for that personal touch