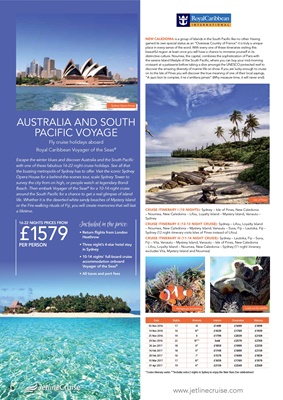 Date Nights Itinerary Interior Oceanview Balcony
03 Nov 2016 17 III £1499 £1699 £1899
14 Nov 2016 16 III* £1639 £1769 £1939
25 Nov 2016 19 II £1799 £2039 £2169
29 Dec 2016 22 III** Sold £2579 £2769
26 Jan 2017 18 II* £1859 £1999 £2259
16 Feb 2017 18 II* £1749 £1899 £2159
28 Feb 2017 16 I* £1579 £1699 £1859
10 Mar 2017 17 III* £1659 £1769 £1979
01 Apr 2017 19 II* £2159 £2349 £2569
*Cruise itinerary varies **Includes extra 2 nights in Sydney to enjoy the New Years Eve celebrations!
AUSTRALIA AND SOUTH
PACIFIC VOYAGE
Fly cruise holidays aboard
Royal Caribbean Voyager of the Seas®
Escape the winter blues and discover Australia and the South Pacific
with one of these fabulous 16-22 night cruise holidays. See all that
the buzzing metropolis of Sydney has to offer. Visit the iconic Sydney
Opera House for a behind-the-scenes tour, scale Sydney Tower to
survey the city from on high, or people watch at legendary Bondi
Beach. Then embark Voyager of the Seas® for a 10-14 night cruise
around the South Pacific for a chance to get a real glimpse of island
life. Whether it is the deserted white sandy beaches of Mystery Island
or the Fire-walking rituals of Fiji, you will create memories that will last
a lifetime.
Included in the price:
• Return flights from London
Heathrow
• Three night's 4-star hotel stay
in Sydney
• 10-14 nights' full-board cruise
accommodation onboard
Voyager of the Seas®
• All taxes and port fees
16-22 NIGHTS PRICES FROM
£1579PER PERSON
Sydney Opera House
Perhaps go snorkelling
Isle of Pines
NEW CALEDONIA is a group of Islands in the South Pacific like no other. Having
gained its own special status as an "Overseas Country of France" it is truly a unique
place in every sense of the word. With every one of these itineraries visiting this
beautiful region at least once you will have a chance to immerse yourself in its
distinctive culture. Noumea, the capital, combines the sophistication of Paris with
the serene Island lifestyle of the South Pacific, where you can buy your mid-morning
croissant at a patisserie before taking a dive amongst the UNESCO protected reef to
discover the amazing diversity of marine life on show. If you are lucky enough to cruise
on to the Isle of Pines you will discover the true meaning of one of their local sayings,
"A quoi bon le compter, il ne s'arrêtera jamais" (Why measure time, it will never end).
Look out for wildlife
CRUISE ITINERARY I (10 NIGHTS): Sydney - Isle of Pines, New Caledonia
- Noumea, New Caledonia - Lifou, Loyalty Island - Mystery Island, Vanautu -
Sydney
CRUISE ITINERARY II (12-13 NIGHT CRUISE): Sydney - Lifou, Loyalty Island
- Noumea, New Caledonia - Mystery Island, Vanautu - Suva, Fiji - Lautoka, Fiji -
Sydney (12 night itinerary visits Isles of Pines instead of Lifou)
CRUISE ITINERARY III (11-14 NIGHT CRUISE): Sydney - Lautoka, Fiji - Suva,
Fiji - Vila, Vanautu - Mystery Island, Vanautu - Isle of Pines, New Caledonia
- Lifou, Loyalty Island - Noumea, New Caledonia - Sydney (11 night itinerary
excludes Vila, Mystery Island and Noumea)
18