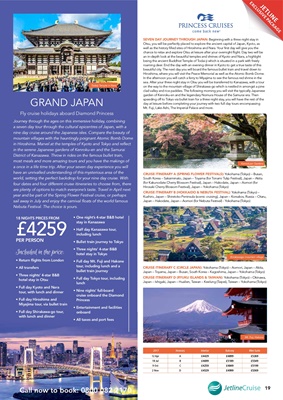 GRAND JAPAN
Fly cruise holidays aboard Diamond Princess
Journey through the ages on this immersive holiday, combining
a seven day tour through the cultural epicentres of Japan, with a
nine day cruise around the Japanese isles. Compare the beauty of
mountain villages with the hauntingly poignant Atomic Bomb Dome
in Hiroshima. Marvel at the temples of Kyoto and Tokyo and reflect
in the serene Japanese gardens of Kenroku-en and the Samurai
District of Kanazawa. Throw in rides on the famous bullet train,
most meals and more amazing tours and you have the makings of
a once in a life time trip. After your seven day experience you will
have an unrivalled understanding of this mysterious area of the
world, setting the perfect backdrop for your nine day cruise. With
four dates and four different cruise itineraries to choose from, there
are plenty of options to match everyone's taste. Travel in April next
year and be part of the Spring Flower Festival cruise, or perhaps
sail away in July and enjoy the carnival floats of the world famous
Nebuta Festival. The choice is yours.
Included in the price:
• Return flights from London
• All transfers
• Three nights' 4-star B&B
hotel stay in Otsu
• Full day Kyoto and Nara
tour, with lunch and dinner
• Full day Hiroshima and
Miyajima tour, via bullet train
• Full day Shirakawa-go tour,
with lunch and dinner
• One night's 4-star B&B hotel
stay in Kanazawa
• Half day Kanazawa tour,
including lunch
• Bullet train journey to Tokyo
• Three nights' 4-star B&B
hotel stay in Tokyo
• Full day Mt. Fuji and Hakone
tour, including lunch and a
bullet train journey
• Full day Tokyo tour, including
lunch
• Nine nights' full-board
cruise onboard the Diamond
Princess
• Entertainment and facilities
onboard
• All taxes and port fees
18 NIGHTS PRICES FROM
£4259PER PERSON
SEVEN DAY JOURNEY THROUGH JAPAN: Beginning with a three night stay in
Otsu, you will be perfectly placed to explore the ancient capital of Japan, Kyoto, as
well as the history filled sites of Hiroshima and Nara. Your first day will give you the
chance to relax and explore Otsu at leisure after your overnight flight. Day two will be
an in-depth look at the beautiful temples and shrines of Kyoto and Nara, a highlight
being the ancient Buddhist Temple of Todai-ji which is situated in a park with freely
roaming deer. End the day with an evening dinner in Kyoto to get a true taste of this
beautiful city. The next day you will board the famous bullet train and travel down to
Hiroshima, where you will visit the Peace Memorial as well as the Atomic Bomb Dome.
In the afternoon you will catch a ferry to Miyajima to see the famous red shrine in the
sea. After your three night stay in Otsu you will be transferred to Kanazawa, with a tour
on the way to the mountain village of Shirakawa-go which is nestled in amongst a pine
clad valley and rice paddies. The following morning you will visit the typically Japanese
garden of Kenroku-en and the legendary Nomura House of the Samurai era. Then
speeding off to Tokyo via bullet train for a three night stay, you will have the rest of the
day at leisure before completing your journey with two full day tours encompassing
Mt. Fuji, Lake Ashi, The Imperial Palace and more.
CRUISE ITINERARY A (SPRING FLOWER FESTIVALS): Yokohama (Tokyo) - Busan,
South Korea - Sakaiminato, Japan - Toyama (for Tonami Tulip Festival), Japan - Akita
(for Kakunodate Cherry Blossom Festival), Japan - Hakodate, Japan - Aomori (for
Hirosaki Cherry Blossom Festival), Japan - Yokohama (Tokyo)
CRUISE ITINERARY B (HOKKAIDO & NEBUTA FESTIVAL): Yokohama (Tokyo) -
Kushiro, Japan - Shiretoko Peninsula (scenic cruising), Japan - Korsakov, Russia - Otaru,
Japan - Hakodate, Japan - Aomori (for Nebuta Festival) - Yokohama (Tokyo)
Todaiji Temple in Nara
2017 Itinerary Interior Balcony Mini-Suite
12 Apr A £4429 £4899 £5269
18 Jul B £4699 £5189 £5549
9 Oct C £4259 £4849 £5199
2 Nov D £4529 £4999 £5369
Kenrokuen Gardens
Shirakawago mountain village
CRUISE ITINERARY C (CIRCLE JAPAN): Yokohama (Tokyo) - Aomori, Japan - Akita,
Japan - Toyama, Japan - Busan, South Korea - Kagoshima, Japan - Yokohama (Tokyo)
CRUISE ITINERARY D (RYUKU ISLANDS & TAIWAN): Yokohama (Tokyo) - Okinawa,
Japan - Ishigaki, Japan - Hualien, Taiwan - Keelung (Taipei), Taiwan - Yokohama (Tokyo)
Mt. Fuji, Hakone 19
Call now to book: 0800 082 2170
JETLINE
EXCLUSIVE PACKAGE