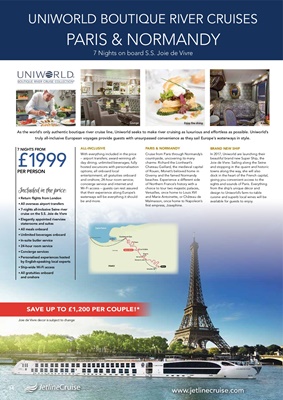 34
PARIS & NORMANDY
7 Nights on board S.S. Joie de Vivre
UNIWORLD BOUTIQUE RIVER CRUISES
ALL-INCLUSIVE
With everything included in the price
- airport transfers; award-winning allday dining; unlimited beverages; fully
hosted excursions with personalisation
options; all onboard local
entertainment; all gratuities onboard
and onshore; 24-hour room service;
concierge service and internet and
Wi-Fi access - guests can rest assured
that their experience along Europe's
waterways will be everything it should
be and more.
PARIS & NORMANDY
Cruise from Paris through Normandy's
countryside, uncovering its many
charms: Richard the Lionheart's
Chateau Gaillard, the medieval capital
of Rouen, Monet's beloved home in
Giverny and the famed Normandy
beaches. Experience a different side
of Northern France's history with a
choice to tour two majestic palaces,
Versailles, once home to Louis XVI
and Marie Antoinette, or Château de
Malmaison, once home to Napoleon's
first empress, Josephine.
BRAND NEW SHIP
In 2017, Uniworld are launching their
beautiful brand new Super Ship, the
Joie de Vivre. Sailing along the Seine
and stopping in the quaint and historic
towns along the way, she will also
dock in the heart of the French capital,
giving you convenient access to the
sights and sounds of Paris. Everything
from the ship's unique décor and
design to Uniworld's farm-to-table
cuisine and superb local wines will be
available for guests to enjoy.
Enjoy fine dining
Lounge A suite
Enjoy delicious dishes
As the world's only authentic boutique river cruise line, Uniworld seeks to make river cruising as luxurious and effortless as possible. Uniworld's
truly all-inclusive European voyages provide guests with unsurpassed convenience as they sail Europe's waterways in style.
Included in the price:
• Return flights from London
• All overseas airport transfers
• 7-nights all-inclusive Seine river
cruise on the S.S. Joie de Vivre
• Elegantly appointed riverview
staterooms and suites
• All meals onboard
• Unlimited beverages onboard
• In-suite butler service
• 24-hour room service
• Concierge services
• Personalised experiences hosted
by English-speaking local experts
• Ship-wide Wi-Fi access
• All gratuities onboard
and onshore
Joie de Vivre decor is subject to change
SAVE UP TO £1,200 PER COUPLE!*
SAVE UP TO £1,200 PER COUPLE!*
7 NIGHTS FROM
£1999PER PERSON