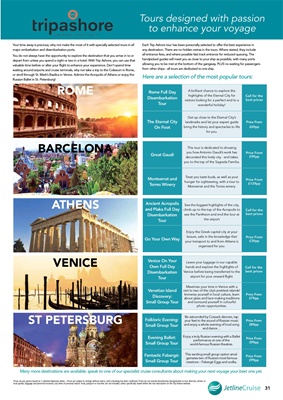 Tours designed with passion
to enhance your voyage
Your time away is precious; why not make the most of it with specially selected tours in all
major embarkation and disembarkation ports.
You do not always have the opportunity to explore the destination that you arrive in to or
depart from unless you spend a night or two in a hotel. With Trip Ashore, you can use that
valuable time before or after your flight to enhance your experience. Don't spend time
waiting around airports and cruise terminals, why not take a trip to the Coliseum in Rome,
or stroll through St. Mark's Basilica in Venice. Admire the Acropolis of Athens or enjoy the
Russian Ballet in St. Petersburg!
Each Trip Ashore tour has been personally selected to offer the best experience in
any destination. There are no hidden extras in the tours. Where stated, they include
all entrance fees, and where possible fast track entrance for reduced queuing. The
handpicked guides will meet you as close to your ship as possible, with many ports
allowing you to be met at the bottom of the gangway. PLUS no waiting for passengers
from other ships - all tours are dedicated to one ship.
Here are a selection of the most popular tours:
31
Call now to book: 0800 082 2170
Great Gaudi
This tour is dedicated to showing
you how Antonio Gaudi's work has
decorated this lively city - and takes
you to the top of the Sagrada Familia.
Price From
£99pp
Montserrat and
Torres Winery
Treat you taste buds, as well as your
hunger for sightseeing, with a tour to
Monserrat and the Torres winery.
Price From
£139pp
BARCELONA
ATHENS
VENICE
ST PETERSBURG
ROME
Ancient Acropolis
and Plaka Full Day
Disembarkation
Tour
See the biggest highlights of the city,
climb up to the top of the Acropolis to
see the Pantheon and end the tour at
the airport
Call for the
best prices
Go Your Own Way
Enjoy the Greek capital city at your
leisure, safe in the knowledge that
your transport to and from Athens is
organised for you.
Price From
£39pp
Venice On Your
Own Full Day
Disembarkation
Tour
Leave your luggage in our capable
hands and explore the highlights of
Venice before being transferred to the
airport for your onward flight.
Call for the
best prices
Venetian Island
Discovery:
Small Group Tour
Maximise your time in Venice with a
visit to two of the city's prettiest islands!
Immerse yourself in local culture, learn
about glass and lace making traditions
and surround yourself in colourful
photo opportunities.
Price From
£79pp
Folkloric Evening:
Small Group Tour
Be astounded by Cossack dancers, tap
your feet to the sound of Russian music
and enjoy a whole evening of local song
and dance…
Price From
£89pp
Evening Ballet:
Small Group Tour
Enjoy a truly Russian evening with a Ballet
performance at one of the
world-famous Russian theatres.
Price From
£99pp
Fantastic Fabergé:
Small Group Tour
This exciting small group option amalgamates two of Russia's
most famous
creations - Fabergé Eggs and vodka.
Price From
£99pp
Rome Full Day
Disembarkation
Tour
A brilliant chance to explore the
highlights of the Eternal City for
visitors looking for a perfect end to a
wonderful holiday!
Call for the
best prices
The Eternal City
On Foot
Get up close to the Eternal City's
landmarks and let your expert guide
bring the history and spectacles to life
for you.
Price From
£69pp
Prices are per person based on 2 selected departure dates - Prices are subject to change without notice, until a booking has been confirmed. Prices do not include discretionary tips/gratuities to tour directors, drivers or
local guides, baggage and personal insurance, any items of personal nature. Food, passport or visa fees are not included, unless specifically stated within the tour description on the Trip Ashore website.
Many more destinations are available; speak to one of our specialist cruise consultants about making your next voyage your best one yet.