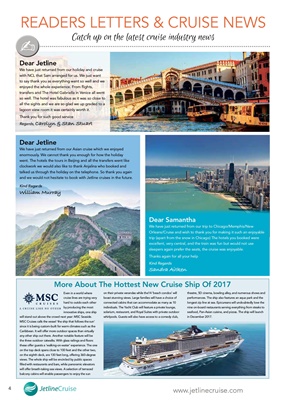 4 READERS LETTERS & CRUISE NEWS
Catch up on the latest cruise industry news
Dear Jetline
We have just returned from our Asian cruise which we enjoyed
enormously. We cannot thank you enough for how the holiday
went. The hotels the tours in Beijing and all the transfers went like
clockwork we would also like to thank Anjalina who booked and
talked us through the holiday on the telephone. So thank you again
and we would not hesitate to book with Jetline cruises in the future.
Kind Regards
William Murray Even in a world where
cruise lines are trying very
hard to outdo each other
by producing the most
innovative ships, one ship
will stand out above the crowd next year: MSC Seaside.
MSC Cruises calls the vessel 'the ship that follows the sun'
since it is being custom-built for warm climates such as the
Caribbean. It will offer more outdoor spaces than virtually
any other ship out there. Another notable feature will be
the three outdoor catwalks. With glass railings and floors
these offer guests a 'walking-on-water' experience. The one
on the top deck spans close to 100 feet and the other two,
on the eighth deck, are 130 feet long, offering 360-degree
views. The whole ship will be encircled by public spaces
filled with restaurants and bars, while panoramic elevators
will offer breath-taking sea views. A selection of terraced
balcony cabins will enable passengers to enjoy the sun
on their private verandas while the14 'beach condos' will
boast stunning views. Large families will have a choice of
connected cabins that can accommodate as many as 10
individuals. The Yacht Club will feature a private lounge,
solarium, restaurant, and Royal Suites with private outdoor
whirlpools. Guests will also have access to a comedy club,
theatre, 5D cinema, bowling alley, and numerous shows and
performances. The ship also features an aqua park and the
longest zip line at sea. Epicureans will undoubtedly love the
nine on-board restaurants serving everything from steaks to
seafood, Pan-Asian cuisine, and pizzas. The ship will launch
in December 2017.
Dear Samantha
We have just returned from our trip to Chicago/Memphis/New
Orleans/Cruise and wish to thank you for making it such an enjoyable
trip (apart from the snow in Chicago) The hotels you booked were
excellent, very central, and the train was fun but would not use
sleepers again prefer the seats, the cruise was enjoyable.
Thanks again for all your help
Kind Regards
Sandra Aitken
Dear Jetline
We have just returned from our holiday and cruise
with NCL that Sam arranged for us. We just want
to say thank you as everything went so well and we
enjoyed the whole experience. From flights,
transfers and The Hotel Gabriella in Venice all went
so well. The hotel was fabulous as it was so close to
all the sights and we are so glad we up graded to a
lagoon view room it was certainly worth it.
Thank you for such good service
Regards, Carolyn & Stan Stuart
More About The Hottest New Cruise Ship Of 2017