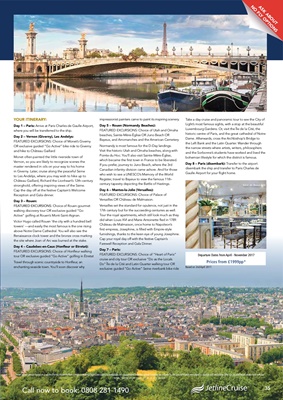 35
Call now to book: 0808 281 1490
Prices are per person based on 2 adults sharing departing from London - regional flights are subject to availability at a supplement. Overseas airport transfers are included in the cost. Itineraries are subject to change and availability. Offer can be withdrawn at any time without
notice. *Savings are per couple and are an up to amount.
YOUR ITINERARY:
Day 1 - Paris: Arrive at Paris Charles de Gaulle Airport,
where you will be transferred to the ship.
Day 2 - Vernon (Giverny), Les Andelys:
FEATURED EXCURSIONS: Choice of Monet's Giverny
OR exclusive guided "Go Active" bike ride to Giverny
and hike to Château Gaillard
Monet often painted the little riverside town of
Vernon, so you are likely to recognize scenes the
master rendered in oils on your way to his home
in Giverny. Later, cruise along the peaceful Seine
to Les Andelys, where you may wish to hike up to
Château Gaillard, Richard the Lionheart's 12th-century
stronghold, offering inspiring views of the Seine.
Cap the day off at the festive Captain's Welcome
Reception and Gala dinner.
Day 3 - Rouen:
FEATURED EXCURSIONS: Choice of Rouen gourmet
walking discovery tour OR exclusive guided "Go
Active" golfing at Rouen's Mont-Saint-Aignan.
Victor Hugo called Rouen 'the city with a hundred bell
towers' -and easily the most famous is the one rising
above Notre Dame Cathedral. You will also see the
Renaissance clock tower and the bronze cross marking
the site where Joan of Arc was burned at the stake.
Day 4 - Caudebec-en-Caux (Honfleur or Etretat):
FEATURED EXCURSIONS: Choice of Honfleur walking
tour OR exclusive guided "Go Active" golfing in Étretat
Travel through scenic countryside to Honfleur, an
enchanting seaside town. You'll soon discover why
impressionist painters came to paint its inspiring scenery.
Day 5 - Rouen (Normandy Beaches):
FEATURED EXCURSIONS: Choice of Utah and Omaha
beaches, Sainte-Mère-Église OR Juno Beach OR
Bayeux, and Arromanches and the American Cemetery
Normandy is most famous for the D-Day landings.
Visit the historic Utah and Omaha beaches, along with
Pointe du Hoc. You'll also visit Sainte-Mère-Église,
which became the first town in France to be liberated.
If you prefer, journey to Juno Beach, where the 3rd
Canadian infantry division came ashore. And for those
who wish to see a UNESCO's Memory of the World
Register, travel to Bayeux to view the famous 11thcentury tapestry depicting the Battle of Hastings.
Day 6 - Mantes-la-Jolie (Versailles):
FEATURED EXCURSIONS: Choice of Palace of
Versailles OR Château de Malmaison.
Versailles set the standard for opulence, not just in the
17th century but for the succeeding centuries as well.
Tour the royal apartments, which still look much as they
did when Louis XVI and Marie Antoinette fled in 1789.
Château de Malmaison, once home to Napoleon's
first empress, Josephine, is filled with Empire-style
furnishings, thanks to the keen eye of young Josephine.
Cap your royal day off with the festive Captain's
Farewell Reception and Gala Dinner.
Day 7 - Paris:
FEATURED EXCURSIONS: Choice of "Heart of Paris"
cruise and city tour OR exclusive "Do as the Locals
Do" Île de la Cité and Latin Quarter walking tour OR
exclusive guided "Go Active" Seine riverbank bike ride
Take a day cruise and panoramic tour to see the City of
Light's most famous sights, with a stop at the beautiful
Luxembourg Gardens. Or, visit the Île de la Cité, the
historic centre of Paris, and the great cathedral of Notre
Dame. Afterwards, cross the Archbishop's Bridge to
the Left Bank and the Latin Quarter. Wander through
the narrow streets where artists, writers, philosophers
and the Sorbonne's students have worked and lived the
bohemian lifestyle for which the district is famous.
Day 8 - Paris (disembark): Transfer to the airport
disembark the ship and transfer to Paris Charles de
Gaulle Airport for your flight home.
Salon de Beaux-Arts
ASK ABOUT
NO FLY OPTIONS
Departure Dates from April - November 2017
Prices from £1999pp*
Based on 2nd April 2017.