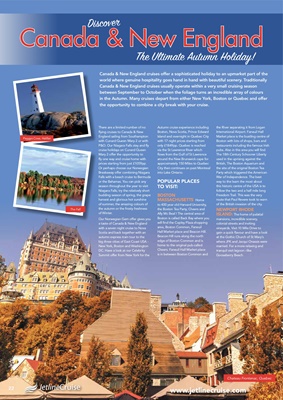 Canada & New England
Discover
Canada & New England cruises offer a sophisticated holiday to an upmarket part of the
world where genuine hospitality goes hand in hand with beautiful scenery. Traditionally
Canada & New England cruises usually operate within a very small cruising season
between September to October when the foliage turns an incredible array of colours
in the Autumn. Many cruises depart from either New York, Boston or Quebec and offer
the opportunity to combine a city break with your cruise.
There are a limited number of no
flying cruises to Canada & New
England sailing from Southampton
with Cunard Queen Mary 2 or with
P&O. Our Niagara Falls stay and fly
cruise holidays on Cunard Queen
Mary 2 offer the opportunity to
fly one way and cruise home with
prices starting from just £1059pp.
Or perhaps choose our Norwegian
Breakaway offer combining Niagara
Falls with a beach cruise to Bermuda
or the Bahamas. You can pick any
season throughout the year to visit
Niagara Falls; try the relatively short
budding season of spring, the grape
harvest and glorious hot sunshine
of summer, the amazing colours of
the autumn or the frosty freshness
of Winter.
Our Norwegian Gem offer gives you
a taste of Canada & New England
with a seven night cruise to Nova
Scotia and back together with an
autumn express train tour to the
big three cities of East Coast USA -
New York, Boston and Washington
DC. Have a look at our Celebrity
Summit offer from New York for the
Autumn cruise experience including
Boston, Nova Scotia, Prince Edward
Island and overnight in Quebec City
with 17 night prices starting from
only £1849pp. Quebec is reached
via the St Lawrence River which
flows from the Gulf of St Lawrence
around the New Brunswick cape for
approximately 150 Miles to Quebec
City then continues on past Montreal
into Lake Ontario.
POPULAR PLACES
TO VISIT:
BOSTON
MASSACHUSETTS: Home
to 400 year old Harvard University,
the Boston Tea Party, Cheers and
Ally Mc Beal ! The central area of
Boston is called Back Bay where you
will find the Copley Plaza shopping
area, Boston Common, Faneuil
Hall Market place and Beacon Hill.
Beacon Hill runs along the north
edge of Boston Common and is
home to the original pub called
Cheers. Faneuil Hall Market place
is in between Boston Common and
the River separating it from Logan
International Airport. Faneuil Hall
Market place is the bustling centre of
Boston with lots of shops, bars and
restaurants including the famous Irish
pubs. Also in this area you will find
The 18th Century Schooner Liberty
used in the uprising against the
British, The Boston Aquarium and
the site of the original Boston Tea
Party which triggered the American
War of Independence. The best
way to the learn the most about
this historic centre of the USA is to
follow the two and a half mile long
Freedom Trail. This was the very
route that Paul Revere took to warn
of the British invasion of the city.
NEWPORT RHODE
ISLAND: The home of palatial
mansions, incredible scenery,
colonial streets and inviting
vineyards. Visit 10 Mile Drive to
gain a quick flavour and have a look
at the Gothic Church of St Mary's
where JFK and Jacqui Onassis were
married. For a more relaxing and
tranquil visit lagoon -like
Gooseberry Beach.
22
The Ultimate Autumn Holiday!
The Fall
Peggys Cove, Halifax
Chateau Frontenac, Quebec