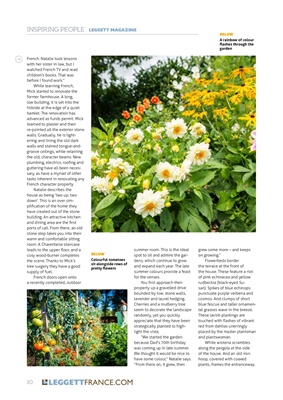 10
INSPIRING PEOPLE LEGGETT MAGAZINE
BELOW
Colourful tomatoes
sit alongside rows of
pretty flowers
BELOW
A rainbow of colour
flashes through the
garden
French. Natalie took lessons
with her sister in law, but I
watched French TV and read
children's books. That was
before I found work."
While learning French,
Mick started to renovate the
former farmhouse. A long,
low building, it is set into the
hillside at the edge of a quiet
hamlet. The renovation has
advanced as funds permit. Mick
learned to plaster and then
re-pointed all the exterior stone
walls. Gradually, he is lightening and lining the old dark
walls and stained tongue-andgroove
ceilings, while retaining
the old, character beams. New
plumbing, electrics, roofing and
guttering have all been necessary,
as have a myriad of other
tasks inherent in renovating any
French character property.
Natalie describes the
house as being 'two up, two
down'. This is an over simplification of
the home they
have created out of the stone
building. An attractive kitchen
and dining area are the first
ports of call. From there, an old
stone step takes you into their
warm and comfortable sitting
room. A Charentaise staircase
leads to the upper floor, and a
cosy wood-burner completes
the scene. Thanks to Mick's
tree surgery they have a good
supply of fuel.
French doors open onto
a recently completed, outdoor
summer room. This is the ideal
spot to sit and admire the gardens, which continue
to grow
and expand each year. The late
summer colours provide a feast
for the senses.
You first approach their
property up a gravelled drive
bounded by low, stone walls,
lavender and laurel hedging.
Cherries and a mulberry tree
seem to decorate the landscape
randomly, yet you quickly
appreciate that they have been
strategically planted to highlight the vista.
"We started the garden
because Dad's 70th birthday
was coming up in late summer.
We thought it would be nice to
have some colour," Natalie says.
"From there on, it grew, then
grew some more - and keeps
on growing."
Flowerbeds border
the terrace at the front of
the house. These feature a riot
of pink echinacea and yellow
rudbeckia (black-eyed Susan). Spikes
of blue echinops
punctuate purple verbena and
cosmos. And clumps of short
blue fescue and taller ornamental grasses
wave in the breeze.
These lavish plantings are
touched with flashes of vibrant
red from dahlias unerringly
placed by the master plantsman
and plantswoman.
White wisteria scrambles
along the pergola at the side
of the house. And an old iron
hoop, covered with coaxed
plants, frames the entranceway.