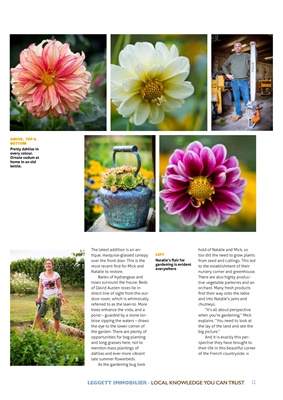 LEGGETT IMMOBILIER - LOCAL KNOWLEDGE YOU CAN TRUST 11
LEFT
Natalie's flair for
gardening is evident
everywhere
The latest addition is an antique,
marquise-glassed canopy
over the front door. This is the
most recent find for Mick and
Natalie to restore.
Banks of hydrangeas and
roses surround the house. Beds
of David Austen roses lie in
direct line of sight from the outdoor room,
which is whimsically
referred to as the lean-to. More
trees enhance the vista, and a
pond - guarded by a stone tortoise sipping the waters
- draws
the eye to the lower corner of
the garden. There are plenty of
opportunities for bog planting
and long grasses here, not to
mention mass plantings of
dahlias and ever more vibrant
late summer flowerbeds.
As the gardening bug took
hold of Natalie and Mick, so
too did the need to grow plants
from seed and cuttings. This led
to the establishment of their
nursery corner and greenhouse.
There are also highly productive
vegetable parterres and an
orchard. Many fresh products
find their way onto the table
and into Natalie's jams and
chutneys.
"It's all about perspective
when you're gardening," Mick
explains. "You need to look at
the lay of the land and see the
big picture."
And it is exactly this perspective
they have brought to
their life in this beautiful corner
of the French countryside.
ABOVE, TOP &
BOTTOM
Pretty dahlias in
every colour.
Ornate sedum at
home in an old
kettle.