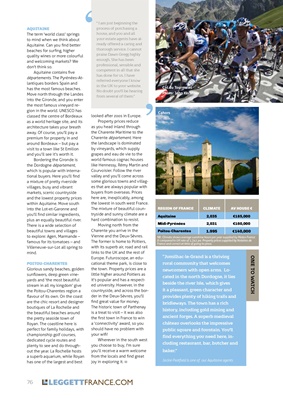 NB : Climate shows average sunshine hours per year supplied by Meteo France
& compared to UK rate of 1,341 pa. Property prices supplied by Notaires de
France and correct at time of going to press.
76
ONE TO WATCH
"Jumilhac-le-Grand is a thriving
rural community that welcomes
newcomers with open arms. Located
in the north Dordogne, it lies
beside the river Isle, which gives
it a pleasant, green character and
provides plenty of hiking trails and
bridleways. The town has a rich
history, including gold mining and
ancient forges. A superb medieval
château overlooks the impressive
public square and fountain. You'll
find everything you need here, including restaurant,
bar, butcher and
baker."
Jackie Peatfield is one of our Aquitaine agents
REGION OF FRANCE
CLIMATE
AV HOUSE €
Aquitaine 2,035 €185,000
Midi-Pyrénées 2,031 €160,000
Poitou-Charentes 1.995 €140,000
AQUITAINE
The term 'world class' springs
to mind when we think about
Aquitaine. Can you find better
beaches for surfing, higher
quality wines or more colourful
and welcoming markets? We
don't think so.
Aquitaine contains five
départements. The Pyrénées-Atlantiques borders
Spain and
has the most famous beaches.
Move north through the Landes
into the Gironde, and you enter
the most famous vineyard region in the world.
UNESCO has
classed the centre of Bordeaux
as a world heritage site, and its
architecture takes your breath
away. Of course, you'll pay a
premium for property in and
around Bordeaux - but pay a
visit to a town like St Emilion
and you'll see it's worth it.
Bordering the Gironde is
the Dordogne département,
which is popular with international buyers.
Here you'll find
a mixture of pretty riverside
villages, busy and vibrant
markets, scenic countryside
and the lowest property prices
within Aquitaine. Move south
into the Lot-et-Garonne and
you'll find similar ingredients,
plus an equally beautiful river.
There is a wide selection of
beautiful towns and villages
to explore: Agen, Marmande -
famous for its tomatoes - and
Villeneuve-sur-Lot all spring to
mind.
POITOU-CHARENTES
Glorious sandy beaches, golden
sunflowers, deep green vineyards
and 'the most beautiful
stream in all my kingdom' give
the Poitou-Charentes region a
flavour of its own. On the coast
are the chic resort and designer
boutiques of La Rochelle and
the beautiful beaches around
the pretty seaside town of
Royan. The coastline here is
perfect for family holidays, with
championship golf courses,
dedicated cycle routes and
plenty to see and do throughout the year.
La Rochelle hosts
a superb aquarium, while Royan
has one of the largest and best
looked after zoos in Europe.
Property prices reduce
as you head inland through
the Charente Maritime to the
Charente département. Here
the landscape is dominated
by vineyards, which supply
grapes and eau de vie to the
world famous cognac houses
like Hennessy, Rémy Martin and
Courvoisier. Follow the river
valley and you'll come across
some glorious towns and villages that are
always popular with
buyers from overseas. Prices
here are, inexplicably, among
the lowest in south west France.
The mixture of beautiful countryside and sunny climate are
a
hard combination to resist.
Moving north from the
Charente you arrive in the
Vienne and the Deux-Sèvres.
The former is home to Poitiers,
with its superb air, road and rail
links to the UK and the rest of
Europe. Futuroscope, an educational theme park, is close to
the town. Property prices are a
little higher around Poitiers as
it's popular and has a respected university.
However, in the
countryside, and across the border in the Deux-Sèvres,
you'll
find great value for money.
The historic town of Parthenay
is a treat to visit - it was also
the first town in France to win
a 'connectivity' award, so you
should have no problem with
your wifi!
Wherever in the south west
you choose to buy, I'm sure
you'll receive a warm welcome
from the locals and find great
joy in exploring it.
Cahors
Col du Tourmalet
Photo: John Kershner
" I am just beginning the
process of purchasing a
house, and you and all
your estate agents have already
offered a caring and
thorough service. I cannot
praise Dawn Gregg highly
enough. She has been
professional, sensible and
competent in all that she
has done for us. I have
referred everyone I know
in the UK to your website.
No doubt you'll be hearing
from several of them."
'
'