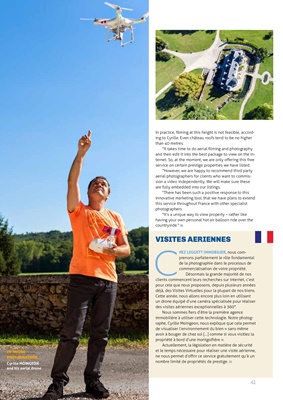 C
HEZ LEGGETT IMMOBILIER, nous comprenons
parfaitement le rôle fondamental
de la photographie dans le processus de
commercialisation de votre propriété.
Désormais la grande majorité de nos
clients commencent leurs recherches sur internet, c'est
pour cela que nous proposons, depuis plusieurs années
déjà, des Visites Virtuelles pour la plupart de nos biens.
Cette année, nous allons encore plus loin en utilisant
un drone équipé d'une caméra spécialisée pour réaliser
des visites aériennes exceptionnelles à 360°.
Nous sommes fiers d'être la première agence
immobilière à utiliser cette technologie. Notre photographe,
Cyrille Moingeon, nous explique que cela permet
de visualiser l'environnement du bien « sans même
avoir à bouger de chez soi […] comme si vous visitiez la
propriété à bord d'une montgolfière ».
Actuellement, la législation en matière de sécurité
et le temps nécessaire pour réaliser une visite aérienne,
ne nous permet d'offrir ce service gratuitement qu'à un
nombre limité de propriétés de prestige.
41
In practice, filming at this height is not feasible, according to Cyrille.
Even château roofs tend to be no higher
than 40 metres.
"It takes time to do aerial filming and photography
and then edit it into the best package to view on the Internet. So,
at the moment, we are only offering this free
service on certain prestige properties we have listed.
"However, we are happy to recommend third party
aerial photographers for clients who want to commission a video independently.
We will make sure these
are fully embedded into our listings.
"There has been such a positive response to this
innovative marketing tool, that we have plans to extend
this service throughout France with other specialist
photographers
"It's a unique way to view property - rather like
having your own personal hot air balloon ride over the
countryside."
IN-HOUSE
PHOTOGRAPHER
Cyrille MOINGEON
and his aerial drone
VISITES AERIENNES