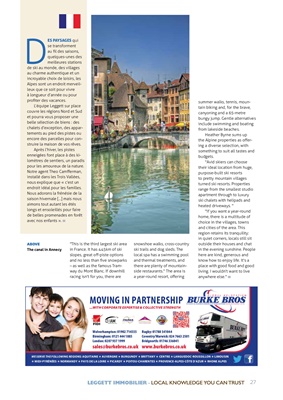 WE SERVE THE FOLLOWING REGIONS: AQUITAINE � AUVERGNE � BURGUNDY � BRITTANY � CENTRE � LANGUEDOC-ROUSSILLON � LIMOUSIN
� MIDI-PYRÉNÉES � NORMANDY � PAYS DE LA LOIRE � PICARDY � POITOU-CHARENTES � PROVENCE-ALPES-CÔTE D'AZUR � RHONE ALPES
MOVING IN PARTNERSHIP
...WITH CORPORATE EXPERTISE & COLLECTIVE STRENGTH
sales@burkebros.co.uk/burkebros.co.uk" target="_blank" title="Visit burkebros.co.uk">burkebros.co.uk www.burkebros.co.uk
Wolverhampton: 01902 714555
Birmingham: 0121 444 1885
London: 0207 937 1999
Rugby: 01788 541044
Coventry/Warwick: 024 7663 2501
Bridgnorth: 01746 336041
ABOVE
The canal in Annecy
"This is the third largest ski area
in France. It has 445km of ski
slopes, great off-piste options
and no less than five snowparks
- as well as the famous Tramway du Mont Blanc. If downhill
racing isn't for you, there are
snowshoe walks, cross-country
ski trails and dog sleds. The
local spa has a swimming pool
and thermal treatments, and
there are plenty of mountainside restaurants."
The area is
a year-round resort, offering
summer walks, tennis, mountain biking and, for
the brave,
canyoning and a 65-metre
bungy jump. Gentle alternatives
include swimming and boating
from lakeside beaches.
Heather Byrne sums up
the Alpine properties as offering a diverse
selection, with
something to suit all tastes and
budgets.
"Avid skiers can choose
their ideal location from huge,
purpose-built ski resorts
to pretty mountain villages
turned ski resorts. Properties
range from the smallest studio
apartment through to luxury
ski chalets with helipads and
heated driveways. "
"If you want a year-round
home, there is a multitude of
choice in the villages, towns
and cities of the area. This
region retains its tranquility:
in quiet corners, locals still sit
outside their houses and chat
in the evening sunshine. People
here are kind, generous and
know how to enjoy life. It's a
place with good food and good
living. I wouldn't want to live
anywhere else."
D
ES PAYSAGES qui
se transforment
au fil des saisons,
quelques-unes des
meilleures stations
de ski au monde, des villages
au charme authentique et un
incroyable choix de loisirs, les
Alpes sont un endroit merveilleux que ce
soit pour vivre
à longueur d'année ou pour
profiter des vacances.
L'équipe Leggett sur place
couvre les régions Nord et Sud
et pourra vous proposer une
belle sélection de biens : des
chalets d'exception, des appartements au pied des pistes ou
encore des parcelles pour construire
la maison de vos rêves.
Après l'hiver, les pistes
enneigées font place à des kilomètres
de sentiers, un paradis
pour les amoureux de la nature.
Notre agent Theo Camfferman,
installé dans les Trois Vallées,
nous explique que « c'est un
endroit idéal pour les familles.
Nous adorons la frénésie de la
saison hivernale [...] mais nous
aimons tout autant les étés
longs et ensoleillés pour faire
de belles promenades en forêt
avec nos enfants ».
LEGGETT IMMOBILIER - LOCAL KNOWLEDGE YOU CAN TRUST 27