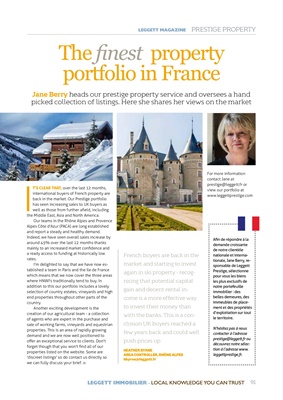 LEGGETT IMMOBILIER - LOCAL KNOWLEDGE YOU CAN TRUST
Afin de répondre à la
demande croissante
de notre clientèle
nationale et internationale,
Jane Berry, responsable de Leggett
Prestige, sélectionne
pour vous les biens
les plus exclusifs de
notre portefeuille
immobilier : des
belles demeures, des
immeubles de placement et des propriétés
d'exploitation sur tout
le territoire.
N'hésitez pas à nous
contacter à l'adresse
prestige@leggett.frttp://leggett.fr" target="_blank" title="Visit leggett.fr">leggett.fr ou
découvrez notre sélection à l'adresse www.
prestige@leggett.frttprestige.fr" target="_blank" title="Visit leggettprestige.fr">leggettprestige.fr.
For more information
contact Jane at
prestige@leggett.fr or
view our portfolio at
91
The finest property
portfolio in France
I
T'S CLEAR THAT, over the last 12 months,
international buyers of French property are
back in the market. Our Prestige portfolio
has seen increasing sales to UK buyers as
well as those from further afield, including
the Middle East, Asia and North America.
Our teams in the Rhône Alpes and Provence
Alpes Côte d'Azur (PACA) are long established
and report a steady and healthy demand.
Indeed, we have seen overall sales increase by
around 45% over the last 12 months thanks
mainly to an increased market confidence and
a ready access to funding at historically low
rates.
I'm delighted to say that we have now established a team in Paris
and the Ile de France
which means that we now cover the three areas
where HNWI's traditionally tend to buy. In
addition to this our portfolio includes a lovely
selection of country estates, vineyards and high
end properties throughout other parts of the
country.
Another exciting development is the
creation of our agricultural team - a collection
of agents who are expert in the purchase and
sale of working farms, vineyards and equestrian
properties. This is an area of rapidly growing
demand and we are now well positioned to
offer an exceptional service to clients. Don't
forget though that you won't find all of our
properties listed on the website. Some are
'discreet listings' so do contact us directly so
we can fully discuss your brief.
French buyers are back in the
market and starting to invest
again in ski property hbyrne@leggett.frt potential
capital
gain and decent rental income
is a more effective way
to invest their money than
with the banks. This is a conclusion UK buyers
reached a
few years back and could well
push prices up
HEATHER BYRNE
AREA CONTROLLER, RHÔNE ALPES
hbyrne@leggett.fr
Jane Berry heads our prestige property service and oversees a hand
picked collection of listings. Here she shares her views on the market
LEGGETT MAGAZINE PRESTIGE PROPERTY