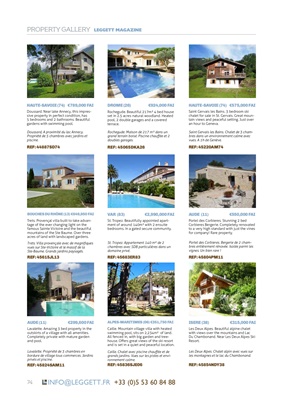 74
HAUTE-SAVOIE (74) €789,000 FAI
Doussard. Near lake Annecy, this impressive
property in perfect condition, has
5 bedrooms and 2 bathrooms. Beautiful
gardens with swimming pool.
Doussard, A proximité du lac Annecy.
Propriété de 5 chambres avec jardins et
piscine.
REF: 44887SD74
DROME (26) €924,000 FAI
Rochegude. Beautiful 217m² 4 bed house
set in 2.5 acres natural woodland. Heated
pool, 2 double garages and a covered
terrace.
Rochegude. Maison de 217 m² dans un
grand terrain boisé. Piscine chauffée et 2
doubles garages.
REF: 45065DKA26
HAUTE-SAVOIE (74) €575,000 FAI
Saint Gervais les Bains. 3 bedroom ski
chalet for sale in St. Gervais. Great mountain views
and peaceful setting. Just over
an hour to Geneva.
Saint Gervais les Bains. Chalet de 3 chambres dans un environnement calme
avec
vues. A 1h de Genève.
REF: 45220AM74
BOUCHES DU RHÔNE (13) €649,950 FAI
Trets. Provençal villa built to take advantage
of the ever changing light on the
famous Sainte Victoire and the beautiful
mountains of the Ste Baume. Over three
acres of land with landscaped gardens.
Trets. Villa provençale avec de magnifiques
vues sur Ste-Victoire et le massif de la
Ste-Baume. Grands jardins paysagés.
REF: 45615JL13
VAR (83) €2,990,000 FAI
St. Tropez. Beautifully appointed apartment of
around 140m² with 2 ensuite
bedrooms. In a gated secure community.
St. Tropez. Appartement 140 m² de 2
chambres avec SDB particulières dans un
domaine privé.
REF: 45683ER83
AUDE (11) €550,000 FAI
Portel des Corbieres. Stunning 2 bed
Corbieres Bergerie. Completely renovated
to a very high standard with just the vines
for company! Rare property.
Portel des Corbieres. Bergerie de 2 chambres entièrement rénovée.
Isolée parmi les
vignes. Un bien rare !
REF: 45804PM11
AUDE (11) €299,600 FAI
Lavalette. Amazing 3 bed property in the
outskirts of a village with all amenities.
Completely private with mature garden
and pool.
Lavalette. Propriété de 3 chambres en
bordure de village tous commerces. Jardins
privés et piscine.
REF: 45824SAM11
ALPES-MARITIMES (06) €351,750 FAI
Caille. Mountain village villa with heated
swimming pool, sits on 2,234m² of land.
All fenced in, with big garden and tree-
house. Offers great views of the ski resort
and is set in a quiet and peaceful location.
Caille. Chalet avec piscine chauffée et de
grands jardins. Vues sur les pistes et environnement calme.
REF: 45836SJE06
ISERE (38) €315,000 FAI
Les Deux Alpes. Beautiful alpine chalet
with views over the mountains and Lac
Du Chambonand. Near Les Deux Alpes Ski
Resort.
Les Deux Alpes. Chalet alpin avec vues sur
les montagnes et le lac du Chambonand.
REF: 45854NDY38
PROPERTY GALLERY LEGGETT MAGAZINE
info@leggett.frttp://leggett.fr" target="_blank" title="Visit leggett.fr">leggett.fr +33 (0)5 53 60 84 88