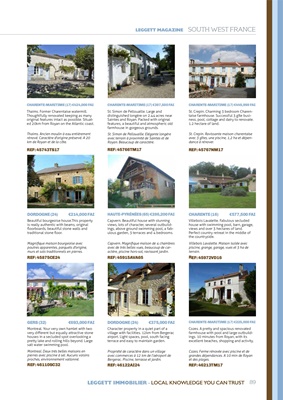 LEGGETT IMMOBILIER - LOCAL KNOWLEDGE YOU CAN TRUST 89
CHARENTE-MARITIME (17) €424,000 FAI
Thaims. Former Charentaise watermill.
Thoughtfully renovated keeping as many
original features intact as possible. Situated 20km from
Royan on the Atlantic coast.
Thaims. Ancien moulin à eau entièrement
rénové. Caractère d'origine préservé. A 20
km de Royan et de la côte.
REF: 45743TS17
CHARENTE-MARITIME (17) €397,500 FAI
St. Simon de Pellouaille. Large and
distinguished longère on 2.44 acres near
Saintes and Royan. Packed with original
features, a beautiful and atmospheric old
farmhouse in gorgeous grounds.
St. Simon de Pellouaille. Elégante longère
avec terrain à proximité de Saintes et de
Royan. Beaucoup de caractère.
REF: 45766TM17
CHARENTE-MARITIME (17) €449,999 FAI
St. Crepin. Charming 3 bedroom Charentaise farmhouse.
Successful 3 gîte business,
pool, cottage and dairy to renovate.
1.2 hectare of land.
St. Crepin. Ravissante maison charentaise
avec 3 gîtes, une piscine, 1,2 ha et dépendance à rénover.
REF: 45767NM17
DORDOGNE (24) €214,000 FAI
Beautiful bourgeoise house.this property
is really authentic with beams, original
floorboards, beautiful stone walls and
traditional stone floor.
Magnifique maison bourgeoise avec
poutres apparentes, parquets d'origine,
murs et sols traditionnels en pierres.
REF: 45875CE24
HAUTE-PYRÉNÉES (65) €286,200 FAI
Capvern. Beautiful house with stunning
views, lots of character, several outbuildings, above
ground swimming pool, a fabulous garden,
3 terraces and 4 bedrooms.
Capvern. Magnifique maison de 4 chambres
avec de très belles vues, beaucoup de caractère, piscine hors-sol, ravissant
jardin.
REF: 45915AVA65
CHARENTE (16) €577,500 FAI
Villebois Lavalette. Fabulous secluded
house with swimming pool, barn, garage,
views and over 3 hectares of land.
Perfect country retreat in the middle of
the countryside.
Villebois Lavalette. Maison isolée avec
piscine, grange, garage, vues et 3 ha de
terrain.
REF: 45972VD16
GERS (32) €693,000 FAI
Montreal. Your very own hamlet with two
very different but equally attractive stone
houses in a secluded spot overlooking a
pretty lake and rolling hills beyond. Large
salt water swimming pool.
Montreal. Deux très belles maisons en
pierres avec piscine à sel. Aucuns voisins
proches, environnement vallonné.
REF: 46110SC32
DORDOGNE (24) €375,000 FAI
Character property in a quiet part of a
village with facilities. 12km from Bergerac
airport. Light spaces, pool, south facing
terrace and easy to maintain garden.
Propriété de caractère dans un village
avec commerces à 12 km de l'aéroport de
Bergerac. Piscine, terrasse et jardin.
REF: 46122AI24
CHARENTE-MARITIME (17) €225,000 FAI
Cozes. A pretty and spacious renovated
farmhouse with pool and large outbuildings. 10 minutes from
Royan, with its
excellent beaches, shopping and activity.
Cozes. Ferme rénovée avec piscine et de
grandes dépendances. A 10 min de Royan
et des plages.
REF: 46213TM17
LEGGETT MAGAZINE SOUTH WEST FRANCE