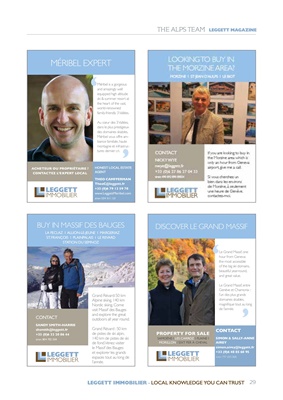 LEGGETT IMMOBILIER - LOCAL KNOWLEDGE YOU CAN TRUST 29
LEGGETT
IMMOBILIER
Méribel is a gorgeous
and amazingly well
equipped high altitude
ski & summer resort at
the heart of the vast,
world-renowned
family-friendly 3 Vallées.
Au cœur des 3 Vallées,
dans le plus prestigieux
des domaines skiables,
Méribel vous offre ambiance familiale,
haute
montagne et infrastructures dernier
cri.
MÉRIBEL EXPERT
HONEST LOCAL ESTATE
AGENT
THEO CAMFFERMAN
theoc@leggett.frttp://leggett.fr" target="_blank" title="Visit leggett.fr">leggett.fr
+33 (0)6 79 13 59 70
siren: 534 311 121
ACHETEUR OU PROPRIÉTAIRE ?
CONTACTEZ L'EXPERT LOCAL
BUY IN MASSIF DES BAUGES
CONTACT
SANDY SMITH-HARRIS
shsmith@leggett.fr
+33 (0)6 32 20 86 44
siren: 804 702 504
LEGGETT
IMMOBILIER
Grand Révard: 50 km
Alpine skiing, 140 km
Nordic skiing. Come
visit Massif des Bauges
and explore the great
outdoors all year round.
Grand Révard : 50 km
de pistes de ski alpin,
140 km de pistes de ski
de fond. Venez visiter
le Massif des Bauges
et explorer les grands
espaces tout au long de
l'année.
LA FECLAZ I ALLION-LE-JEUNE I MARGERIAZ
ST. FRANÇOIS I PLAINPALAIS I LE REVARD
STATION DU SEMNOZ
PROPERTY FOR SALE
SAMOËNS I LES CARROZ I FLAINE I
MORILLON I SIXT FER À CHEVAL
LEGGETT
IMMOBILIER
Le Grand Massif, one
hour from Geneva:
the most accessible
of the big ski domains,
beautiful year-round,
and great value.
Le Grand Massif, simon.airey@leggett.fre et Chamonix :
l'un des plus grands
domaines skiables,
magnifique tout au long
de l'année.
DISCOVER LE GRAND MASSIF
CONTACT
SIMON & SALLY-ANNE
AIREY
+33 (0)6 48 85 60 95
siren: 797 650 868
' '
THE ALPS TEAM LEGGETT MAGAZINE