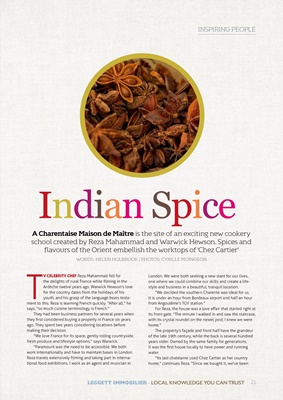 LEGGETT IMMOBILIER - LOCAL KNOWLEDGE YOU CAN TRUST 21
T
V CELEBRITY CHEF Reza Mahammad fell for
the delights of rural France while filming in the
Ardèche twelve years ago. Warwick Hewson's love
for the country dates from the holidays of his
youth, and his grasp of the language bears testament to this. Reza
is learning French quickly. "After all," he
says, "so much cuisine terminology is French."
They had been business partners for several years when
they first considered buying a property in France six years
ago. They spent two years considering locations before
making their decision.
"We love France for its space, gently rolling countryside,
fresh produce and lifestyle options," says Warwick.
"Paramount was the need to be accessible. We both
work internationally and have to maintain bases in London.
Reza travels extensively filming and taking part in international food
exhibitions. I work as an agent and musician in
INSPIRING PEOPLE
Indian Spice
A Charentaise Maison de Maître is the site of an exciting new cookery
school created by Reza Mahammad and Warwick Hewson. Spices and
flavours of the Orient embellish the worktops of 'Chez Cartier'
London. We were both seeking a new slant for our lives,
one where we could combine our skills and create a lifestyle and business
in a beautiful, tranquil location.
"We decided the southern Charente was ideal for us.
It is under an hour from Bordeaux airport and half an hour
from Angoulême's TGV station."
For Reza, the house was a love affair that started right at
its front gate. "The minute I walked in and saw the staircase,
with its crystal roundel on the newel post, I knew we were
home."
The property's façade and front half have the grandeur
of the late 19th century, while the back is several hundred
years older. Owned by the same family for generations,
it was the first house locally to have power and running
water.
"Its last chatelaine used Chez Cartier as her country
home," continues Reza. "Since we bought it, we've been
WORDS: HELEN HOLBROOK | PHOTOS: CYRILLE MOINGEON