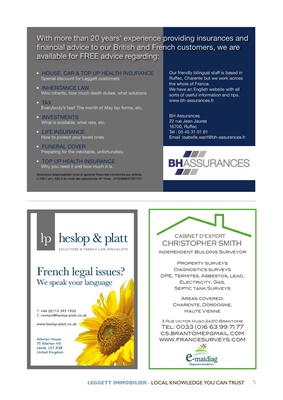 LEGGETT IMMOBILIER - LOCAL KNOWLEDGE YOU CAN TRUST 5
Independent Building Surveyor
Property surveys
Diagnostics surveys
DPE, Termites, Asbestos, Lead,
Electricity, Gas,
Septic tank Surveys
Areas covered:
Charente, Dordogne,
Haute Vienne
3 Rue victor Hugo 24310 Brantome
Tel: 0033 (0)6 63 99 71 77
cs.brantome@gmail.comantome" target="_blank" title="Visit cs.brantome">cs.brantome@gmail.com
Assurance responsabilité civile et garantie financière conformes aux articles
L-530.1 et L-530.2 du code des assurances. N° Orias : 07020908/07021727
• HOUSE, CAR & TOP UP HEALTH INSURANCE
Special discount for Leggett customers
• INHERITANCE LAW
Who inherits, how much death duties, what solutions
• TAX
Everybody's fear! The month of May tax forms, etc.
• INVESTMENTS
What is available, what rate, etc.
• LIFE INSURANCE
How to protect your loved ones
• FUNERAL COVER
Preparing for the inevitable, unfortunately.
• TOP UP HEALTH INSURANCE
Why you need it and how much it is.
Our friendly bilingual staff is based in
Ruffec, Charente but we work across
<isabelle.want@bh-assurances.fre have an English website with all
sorts of useful information and tips.
BH Assurances
22 rue Jean Jaures
16700, Ruffec
Tel : 05 45 31 01 61
Email :isabelle.want@bh-assurances.fr
With more than 20 years' experience providing insurances and
financial advice to our British and French customers, we are
available for FREE advice regarding: