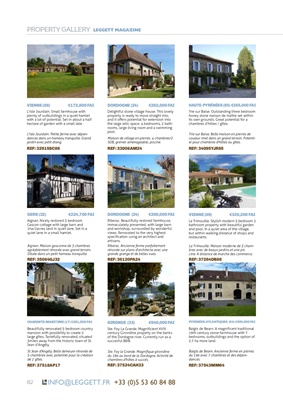 82
PROPERTY GALLERY LEGGETT MAGAZINE
VIENNE (86) €172,800 FAI
L'Isle Jourdain. Small farmhouse with
plenty of outbuildings in a quiet hamlet
with a lot of potential. Set in about a half
hectare of garden with a small lake.
L'Isle Jourdain. Petite ferme avec dépendances dans un hameau
tranquille. Grand
jardin avec petit étang.
REF: 32915SC86
DORDOGNE (24) €262,000 FAI
Delightful stone village house. This lovely
property is ready to move straight into,
and it offers potential for extension into
the large attic space. 4 bedrooms, 2 bathrooms,
large living room and a swimming
pool.
Maison de village en pierres. 4 chambres/2
SDB, grenier aménageable, piscine.
REF: 33008AM24
HAUTE-PYRÉNÉES (65) €285,000 FAI
Trie sur Baise. Outstanding three bedroom
honey stone maison de maître set within
its own grounds. Great potential for a
chambres d'hôtes / gîtes.
Trie sur Baise. Belle maison en pierres de
couleur miel dans un grand terrain. Potentiel pour chambres d'hôtes ou gîtes.
REF: 34095YJR65
GERS (32) €224,700 FAI
Aignan. Nicely restored 3 bedroom
Gascon cottage with large barn and
1ha/2acres land in quiet lane. Set in a
quiet lane in a small hamlet.
Aignan. Maison gasconne de 3 chambres
agréablement rénovée avec grand terrain.
Située dans un petit hameau tranquille.
REF: 35084GJ32
DORDOGNE (24) €260,000 FAI
Riberac. Beautifully restored farmhouse,
immaculately presented, with large barn
and workshop, surrounded by wonderful
views. Renovated to the very highest
specification using an architect and
artisans.
Riberac. Ancienne ferme parfaitement
rénovée sur plans d'architecte avec une
grande grange et de belles vues.
REF: 36120PA24
VIENNE (86) €339,200 FAI
La Trimouille. Stylish modern 3 bedroom 2
bathroom property with beautiful garden
and pool. In a quiet area of the village,
but within walking distance of shops and
restaurants.
La Trimouille. Maison moderne de 3 chambres avec de beaux
jardins et une pis
cine. A distance de marche des commerce.
REF: 37264DB86
CHARENTE-MARITIME (17) €291,500 FAI
Beautifully renovated 5 bedroom country
mansion with possibility to create 2
large gîtes. Tastefully renovated, situated
3miles away from the historic town of St.
Jean d'Angély.
St Jean d'Angély. Belle demeure rénovée de
5 chambres avec potentiel pour la création
de 2 gîtes.
REF: 37518AP17
GIRONDE (33) €940,000 FAI
Ste. Foy La Grande. Magnificient XVIII
century Girondine property on the banks
of the Dordogne river. Currently run as a
succesful B&B.
Ste. Foy la Grande. Magnifique girondine
du 18e au bord de la Dordogne. Activité de
chambres d'hôtes à succès.
REF: 37524CAH33
PYRÉNÉES-ATLANTIQUES (64) €299,000 FAI
Baigts de Bearn. A magnificent traditional
19th century stone farmhouse with 7
bedrooms, outbuildings and the option of
2.7 ha more land.
Baigts de Bearn. Ancienne ferme en pierres
du 19e avec 7 chambres et des dépendances.
REF: 37543MM64
info@leggett.frttp://leggett.fr" target="_blank" title="Visit leggett.fr">leggett.fr +33 (0)5 53 60 84 88