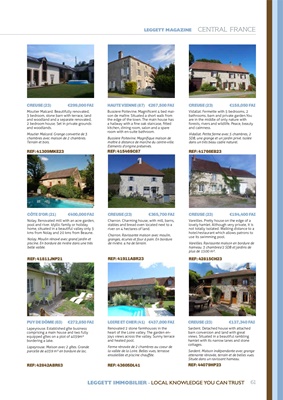 LEGGETT IMMOBILIER - LOCAL KNOWLEDGE YOU CAN TRUST 61
CREUSE (23) €299,000 FAI
Moutier Malcard. Beautifully renovated,
3 bedroom, stone barn with terrace, land
and woodland and a separate renovated,
2 bedroom house. Set in private grounds
and woodlands.
Moutier Malcard. Grange convertie de 3
chambres avec maison de 2 chambres.
Terrain et bois.
REF: 41309MKE23
HAUTE VIENNE (87) €267,500 FAI
Bussiere Poitevine. Magnificent 4 bed maison de maître.
Situated a short walk from
the edge of the town. The main house has
a hallway with a fine oak staircase, fitted
kitchen, dining room, salon and a spare
room with en-suite bathroom.
Bussiere Poitevine. Magnifique maison de
maître à distance de marche du centre-ville.
Eléments d'origine préservés.
REF: 41546SC87
CREUSE (23) €158,050 FAI
Vidallat. Fermette with 5 bedrooms, 2
bathrooms, barn and private garden.you
are in the middle of only nature with
forests, rivers and wildlife. Peace, beauty
and calmness.
Vidallat. Petite ferme avec 5 chambres, 2
SDB, une grange et un jardin privé. Isolée
dans un très beau cadre naturel.
REF: 41766EB23
CÔTE D'OR (21) €400,000 FAI
Nolay. Renovated mill with an acre garden,
pool and river. Idyllic family or holiday
home, situated in a beautiful valley only 3
kms from Nolay and 20 kms from Beaune.
Nolay. Moulin rénové avec grand jardin et
piscine. En bordure de rivière dans une très
belle vallée.
REF: 41811JNP21
LEGGETT MAGAZINE CENTRAL FRANCE
CREUSE (23) €365,700 FAI
Charron. Charming house, with mill, barns,
stables and bread oven located next to a
river on 4 hectares of land.
Charron. Ravissante maison avec moulin,
granges, écuries et four à pain. En bordure
de rivière. 4 ha de terrain.
REF: 41911ABR23
CREUSE (23) €194,400 FAI
Vareilles. Pretty house on the edge of a
lovely hamlet. Although very private, it is
not totally isolated. Walking distance to a
hotel/restaurant which allows patrons to
use its swimming pool.
Vareilles. Ravissante maison en bordure de
hameau. 3 chambres/2 SDB et jardins de
plus de 1500 m².
REF: 42815CH23
LOIRE ET CHER (41) €437,000 FAI
Renovated 2 stone farmhouses in the
heart of the Loire valley. The garden enjoys
views across the valley. Sunny terrace
and heated pool.
Ferme rénovée de 2 chambres au coeur de
la vallée de la Loire. Belles vues, terrasse
ensoleillée et piscine chauffée.
REF: 43605DL41
PUY DE DÔME (63) €272,850 FAI
Lapeyrouse. Established gîte business
comprising a main house and two fully
equipped gîtes on a plot of 4039m²
bordering a lake.
Lapeyrouse. Maison avec 2 gîtes. Grande
parcelle de 4039 m² en bordure de lac.
REF: 42842ABR63
CREUSE (23) €137,340 FAI
Sardent. Detached house with attached
barn conversion and land with great
views. Situated in a beautiful rambling
hamlet with its narrow lanes and stone
cottages.
Sardent. Maison indépendante avec grange
attenante rénovée, terrain et de belles vues.
Située dans un ravissant hameau.
REF: 44079HP23