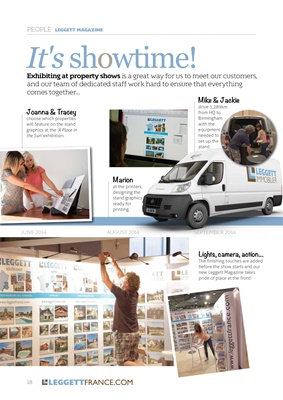 It's showtime!
Exhibiting at property shows is a great way for us to meet our customers,
and our team of dedicated staff work hard to ensure that everything
comes together...
Joanna & Tracey
choose which properties
will feature on the stand
graphics at the 'A Place in
the Sun' exhibition.
Marion
at the printers,
designing the
stand graphics
ready for
printing.
Mike & Jackie
drive 1,289km
from HQ to
Birmingham
with the
equipment
needed to
set up the
stand.
JUNE 2014 AUGUST 2014 SEPTEMBER 2014
Lights, camera, action...
The finishing touches are added
before the show starts and our
new Leggett Magazine takes
pride of place at the front!
PEOPLE LEGGETT MAGAZINE