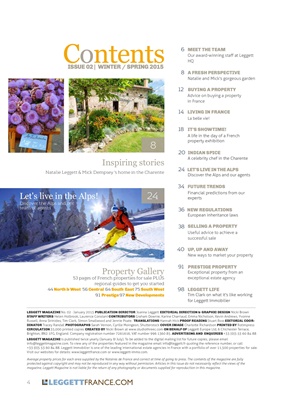 Inspiring stories
Property Gallery
Contents
Natalie Leggett & Mick Dempsey 's home in the Charente
53 pages of French properties for sale PLUS
regional guides to get you started
44 North & West 56 Central 64 South East 75 South West
91 Prestige 97 New Developments
8
24
ISSUE 02 | WINTER / SPRING 2015
LEGGETT MAGAZINE No. 02 · January 2015 PUBLICATION DIRECTOR Joanna Leggett EDITORIAL DIRECTION & GRAPHIC DESIGN Nicki Brown
STAFF WRITERS Helen Holbrook, Laurence Constant CONTRIBUTORS Graham Downie, Karine Charriaud, Emma Nicholson, Kevin Andrews, Yvonne
Russell, Anna Sirinides, Tim Clark, Simon Smallwood and Jennie Poate. TRANSLATIONS Hannah Hick PROOF READING Stuart Ross EDITORIAL COORDINATOR
Tracey Randall PHOTOGRAPHS Sarah Vernon, Cyrille Moingeon, Shutterstock COVER IMAGE Charlotte Richardson PRINTED BY Rotimpress
CIRCULATION 35,000 printed copies CREATED BY Nicki Brown at www.studiothreec.com ON BEHALF OF Leggett Europe Ltd, 6 Chichester Terrace,
Brighton, BN2 1FG, England. Company registration number 7261616, VAT number 996 1360 85. ADVERTISING AND info@leggettmagazine.com 84 88
LEGGETT MAGAZINE is published twice yearly (Januarinfo@leggett.frTo be added to the digital mailing list for future copies, please email
info@leggettmagazine.com. To view any of the properties featured in the magazine email info@leggett.fr quoting the reference number, or call
+33 (0)5 53 60 84 88. Leggett Immobilier is one of the leading international estate agencies in France with a portfolio of over 11,500 properties for sale.
Visit our websites for details: www.leggettfrance.com or www.leggett-immo.com.
Average property prices for each area supplied by the Notaires de France and correct at time of going to press. The contents of the magazine are fully
protected against copyright and may not be reproduced in any way without permission. Articles in this issue do not necessarily reflect the views of the
magazine. Leggett Magazine is not liable for the return of any photography or documents supplied for reproduction in this magazine.
Let's live in the Alps!
Discover the Alps and our
team of agents
6 MEET THE TEAM
Our award-winning staff at Leggett
HQ
8 A FRESH PERSPECTIVE
Natalie and Mick's gorgeous garden
12 BUYING A PROPERTY
Advice on buying a property
in France
14 LIVING IN FRANCE
La belle vie!
18 IT'S SHOWTIME!
A life in the day of a French
property exhibition
20 INDIAN SPICE
A celebrity chef in the Charente
24 LET'S LIVE IN THE ALPS
Discover the Alps and our agents
34 FUTURE TRENDS
Financial predictions from our
experts
36 NEW REGULATIONS
European inheritance laws
38 SELLING A PROPERTY
Useful advice to achieve a
successful sale
40 UP, UP AND AWAY
New ways to market your property
91 PRESTIGE PROPERTY
Exceptional property from an
exceptional estate agency
98 LEGGETT LIFE
Tim Clark on what it's like working
for Leggett Immobilier