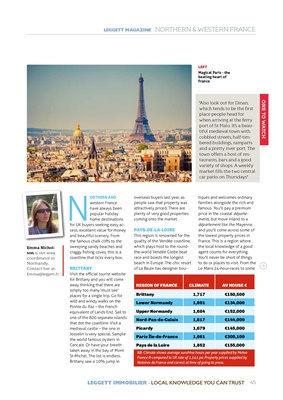 LEGGETT IMMOBILIER - LOCAL KNOWLEDGE YOU CAN TRUST 45
NB : Climate shows average sunshine hours per year supplied by Meteo France &
compared to UK rate of 1,341 pa. Property prices supplied by Notaires de France and
correct at time of going to press.
N
ORTHERN AND
western France
have always been
popular holiday
home destinations
for UK buyers seeking easy access,
excellent value for money
and beautiful scenery. From
the famous chalk cliffs to the
sweeping sandy beaches and
craggy fishing coves, this is a
coastline that ticks every box.
BRITTANY
Visit the oficial tourist website
for Brittany and you will come
away thinking that there are
simply too many 'must see'
places for a single trip. Go for
wild and windy walks on the
Pointe du Raz - the French
equivalent of Lands End. Sail to
one of the 800 separate islands
that dot the coastline. Visit a
medieval castle - the one in
Josselin is very special. Sample
the world famous oysters in
Cancale. Or have your breath
taken away in the bay of Mont
St-Michel. The list is endless.
Brittany saw a 10% jump in
overseas buyers last year, as
people saw that property was
attractively priced. There are
plenty of very good properties
coming onto the market.
PAYS-DE-LA-LOIRE
This region is renowned for the
quality of the Vendée coastline,
which plays host to the roundthe-world
Vendée Globe boat
race and boasts the longest
beach in Europe. The chic resort
of La Baule has designer boutiques and welcomes
ordinary
families alongside the rich and
famous. You'll pay a premium
price in the coastal départements,
but move inland to a
département like the Mayenne
and you'll come across some of
the lowest property prices in
France. This is a region where
the local knowledge of a good
agent counts for everything.
You'll never be short of things
to do or places to visit. From the
Le Mans 24-hour-races to some
LEGGETT MAGAZINE NORTHERN & WESTERN FRANCE
LEFT
Magical Paris - the
beating heart of
France
"Also look out for Dinan,
which tends to be the first
place people head for
when arriving at the ferry
port of St Malo. It's a beautiful medieval
town with
cobbled streets, half-timbered
buildings, ramparts
and a pretty river port. The
town offers a host of restaurants,
bars and a good
variety of shops. A weekly
market fills the two central
car parks on Thursdays" ONE TO WATCH
Emma Nicholson
is our area
coordinator in
Normandy.
Contact her at:
emma@leggett.frttp://leggett.fr" target="_blank" title="Visit leggett.fr">leggett.fr
REGION OF FRANCE
CLIMATE
AV HOUSE €
Brittany 1,717 €150,500
Lower Normandy 1,691 €134,000
Upper Normandy 1,684 €152,000
Nord-Pas-de-Calais 1,617 €144,000
Picardy 1,679 €145,000
Paris Île-de-France 1,661 €300,100
Pays de la Loire 1,852 €155,000
NB : Climate shows average sunshine hours per year supplied by Meteo
France & compared to UK rate of 1,341 pa. Property prices supplied by
Notaires de France and correct at time of going to press.