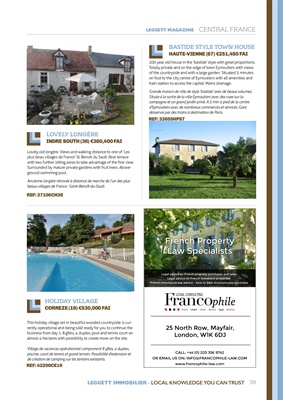 CALL: +44 (0) 203 356 9742
OR EMAIL US ON: info@francophile-law.comncophile-law.com" target="_blank" title="Visit francophile-law.com">francophile-law.com
French Property
Law Specialists
25 North Row, Mayfair,
London, W1K 6DJ
Legal advice on French property purchases and sales
Legal advice on French leaseback properties
French inheritance law advice - how to best structure your purchase 59
LEGGETT MAGAZINE CENTRAL FRANCE
BASTIDE STYLE TOWN HOUSE
HAUTE-VIENNE (87) €251,450 FAI
200 year old house in the 'bastide' style with great proportions.
Totally private and on the edge of town Eymoutiers with views
of the countryside and with a large garden. Situated 3 minutes
on foot to the city centre of Eymoutiers with all amenities and
train station to access the capital. Mains drainage.
Grande maison de ville de style 'bastide' avec de beaux volumes.
Située à la sortie de la ville Eymoutiers avec des vues sur la
campagne et un grand jardin privé. A 3 min a pied de la centre
d'Eymoutiers avec de nombreux commerces et services. Gare
desservie par des trains à destination de Paris.
REF: 33655HP87
Lovely old longère. Views and walking distance to one of 'Les
plus beau villages de France' St. Benoit du Sault. Rear terrace
with two further sitting areas to take advantage of the fine view.
Surrounded by mature private gardens with fruit trees. Aboveground
swimming pool.
Ancienne longère rénovée à distance de marche de l'un des plus
beaux villages de France : Saint-Benoît-du-Sault.
LOVELY LONGÈRE
INDRE SOUTH (36) €360,400 FAI
REF: 37106CH36
HOLIDAY VILLAGE
CORREZE (19) €530,000 FAI
This holiday village set in beautiful wooded countryside is currently
operational and being sold ready for you to continue the
business from day 1. 8 gîtes, 4 duplex, pool and tennis court on
almost 4 hectares with possibility to create more on the site.
Village de vacances opérationnel comprenant 8 gîtes, 4 duplex,
piscine, court de tennis et grand terrain. Possibilité d'extension et
de création de camping sur les terrains existants.
REF: 42200CE19
LEGGETT IMMOBILIER - LOCAL KNOWLEDGE YOU CAN TRUST