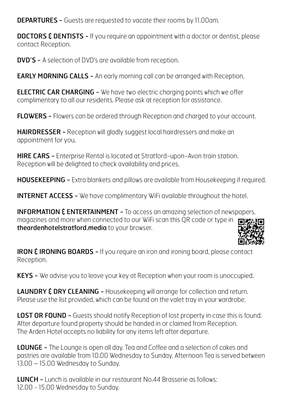 DEPARTURES - Guests are requested to vacate their rooms by 11.00am.
DOCTORS & DENTISTS - If you require an appointment with a doctor or dentist, please
contact Reception.
DVD'S - A selection of DVD's are available from reception.
EARLY MORNING CALLS - An early morning call can be arranged with Reception.
ELECTRIC CAR CHARGING - We have two electric charging points which we offer
complimentary to all our residents. Please ask at reception for assistance.
FIRE ALARM TEST - We test the fire alarms every Monday morning at 11.00am.
FLOWERS - Flowers can be ordered through Reception and charged to your account.
HAIRDRESSER - Reception will gladly suggest local hairdressers and make an
appointment for you.
HIRE CARS - Enterprise Rental is located at Stratford-upon-Avon train station.
Reception will be delighted to check availability and prices.
HOUSEKEEPING - Extra blankets and pillows are available from Housekeeping if
required.
INTERNET ACCESS - We have complimentary WiFi available throughout the hotel.
Please connect to "The Arden Resident Wi-Fi" using password ArdenResident17
Super-Fast Internet is available at an extra charge, please contact our Reception Team
for more details. Charges are as follows:
1 Hour = £3.50 1 Day = £8.50
1 week = £55 1 Month = £240
IRON & IRONING BOARDS - If you require an iron and ironing board, please contact
Reception.
KEYS - We advise you to leave your key at Reception when your room is unoccupied.
LAUNDRY & DRY CLEANING - Housekeeping will arrange for collection and return.
Please use the list provided, which can be found in your desk drawer.
LOST OR FOUND - Guests should notify Reception of lost property in case this is found
PROPERTY After departure found property should be handed in or claimed from
Reception. The Arden Hotel accepts no liability for any items left after departure.