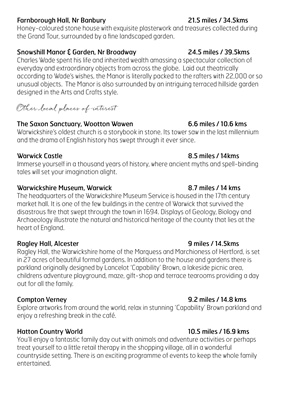 Farnborough Hall, Nr Banbury 21.5 miles / 34.5kms
Honey-coloured stone house with exquisite plasterwork and treasures collected during
the Grand Tour, surrounded by a fine landscaped garden.
Snowshill Manor & Garden, Nr Broadway 24.5 miles / 39.5kms
Charles Wade spent his life and inherited wealth amassing a spectacular collection of
everyday and extraordinary objects from across the globe. Laid out theatrically
according to Wade's wishes, the Manor is literally packed to the rafters with 22,000 or so
unusual objects. The Manor is also surrounded by an intriguing terraced hillside garden
designed in the Arts and Crafts style.
Other local places of interest
The Saxon Sanctuary, Wootton Wawen 6.6 miles / 10.6 kms
Warwickshire's oldest church is a storybook in stone. Its tower saw in the last millennium
and the drama of English history has swept through it ever since.
Warwick Castle 8.5 miles / 14kms
Immerse yourself in a thousand years of history, where ancient myths and spell-binding
tales will set your imagination alight.
Warwickshire Museum, Warwick 8.7 miles / 14 kms
The headquarters of the Warwickshire Museum Service is housed in the 17th century
market hall. It is one of the few buildings in the centre of Warwick that survived the
disastrous fire that swept through the town in 1694. Displays of Geology, Biology and
Archaeology illustrate the natural and historical heritage of the county that lies at the
heart of England.
Ragley Hall, Alcester 9 miles / 14.5kms
Ragley Hall, the Warwickshire home of the Marquess and Marchioness of Hertford, is set
in 27 acres of beautiful formal gardens. In addition to the house and gardens there is
parkland originally designed by Lancelot 'Capability' Brown, a lakeside picnic area,
childrens adventure playground, maze, gift-shop and terrace tearooms providing a day
out for all the family.
Compton Verney 9.2 miles / 14.8 kms
Explore artworks from around the world, relax in stunning 'Capability' Brown parkland and
enjoy a refreshing break in the café.
Hatton Country World 10.5 miles / 16.9 kms
You'll enjoy a fantastic family day out with animals and adventure activities or perhaps
treat yourself to a little retail therapy in the shopping village, all in a wonderful
countryside setting. There is an exciting programme of events to keep the whole family
entertained.