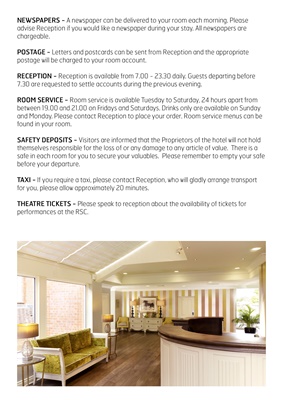 LUNCH - Unfortunately our Brasserie will not be serving lunch or dinner, however reception have
a list of local restaurants which will be open during your stay. We will be serving a
limited choice of meals for lunch Friday to Sunday.
NEWSPAPERS - A newspaper can be delivered to your room each morning. Please advise Reception if you
would like a newspaper during your stay. All newspapers are chargeable.
POSTAGE - Letters and postcards can be sent from Reception and the appropriate
postage will be charged to your room account.
RECEPTION - Reception is available from 7.00am until 11.30pm daily. Guests departing
before 7.30am are requested to settle accounts during the previous evening.
CLUB BAR - Open daily, 24 hours to all hotel guests.
ROOM SERVICE - Room service is available 24 hours. Please contact Reception to
place your order. Room Service menus can be found on the desk.
SAFETY DEPOSITS - Visitors are informed that the Proprietors of the hotel will not hold
themselves responsible for the loss of or any damage to any article of value. There is a
safe in each room for you to secure your valuables. Please remember to empty your safe
before your departure.
TAXI - If you require a taxi, please contact Reception, who will gladly arrange transport
for you, please allow approximately 20 minutes.
THEATRE TICKETS - The theatre is currently closed.