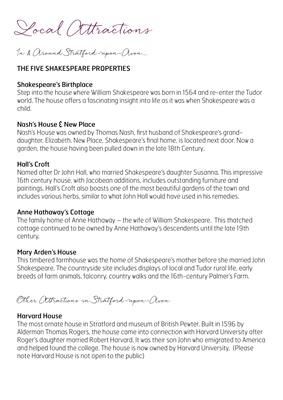 In & Around Stratford-upon-Avon…
THE FIVE SHAKESPEARE PROPERTIES
Shakespeare's Birthplace
Step into the house where William Shakespeare was born in 1564 and re-enter the Tudor
world. The house offers a fascinating insight into life as it was when Shakespeare was a
child.
Nash's House & New Place
Nash's House was owned by Thomas Nash, first husband of Shakespeare's granddaughter,
Elizabeth. New Place, Shakespeare's final home, is located next door. Now a
garden, the house having been pulled down in the late 18th Century.
Hall's Croft
Named after Dr John Hall, who married Shakespeare's daughter Susanna. This impressive
16th century house, with Jacobean additions, includes outstanding furniture and
paintings. Hall's Croft also boasts one of the most beautiful gardens of the town and
includes various herbs, similar to what John Hall would have used in his remedies.
Anne Hathaway's Cottage
The family home of Anne Hathaway - the wife of William Shakespeare. This thatched
cottage continued to be owned by Anne Hathaway's descendents until the late 19th
century.
Mary Arden's House
This timbered farmhouse was the home of Shakespeare's mother before she married John
Shakespeare. The countryside site includes displays of local and Tudor rural life, early
breeds of farm animals, falconry, country walks and the 16th-century Palmer's Farm.
Other Attractions in Stratford-upon-Avon
Harvard House
The most ornate house in Stratford and museum of British Pewter. Built in 1596 by
Alderman Thomas Rogers, the house came into connection with Harvard University after
Roger's daughter married Robert Harvard. It was their son John who emigrated to America
and helped found the college. The house is now owned by Harvard University. (Please
note Harvard House is not open to the public)
Local Attractions