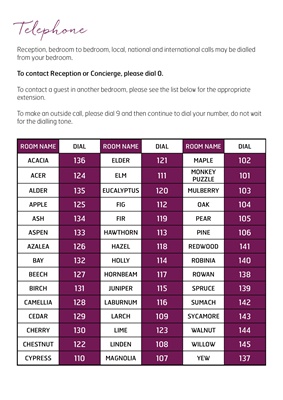 Reception, bedroom to bedroom, local, national and international calls may be dialled
from your bedroom.
To contact Reception or Concierge, please dial 0.
To contact a guest in another bedroom, please see the list below for the appropriate
extension.
To make an outside call, please dial 9 and then continue to dial your number, do not wait
for the dialling tone.
Telephone
ROOM NAME DIAL ROOM NAME DIAL ROOM NAME DIAL
ACACIA 136 ELDER 121 MAPLE 102
ACER 124 ELM 111
MONKEY
PUZZLE 101
ALDER 135 EUCALYPTUS 120 MULBERRY 103
APPLE 125 FIG 112 OAK 104
ASH 134 FIR 119 PEAR 105
ASPEN 133 HAWTHORN 113 PINE 106
AZALEA 126 HAZEL 118 REDWOOD 141
BAY 132 HOLLY 114 ROBINIA 140
BEECH 127 HORNBEAM 117 ROWAN 138
BIRCH 131 JUNIPER 115 SPRUCE 139
CAMELLIA 128 LABURNUM 116 SUMACH 142
CEDAR 129 LARCH 109 SYCAMORE 143
CHERRY 130 LIME 123 WALNUT 144
CHESTNUT 122 LINDEN 108 WILLOW 145
CYPRESS 110 MAGNOLIA 107 YEW 137