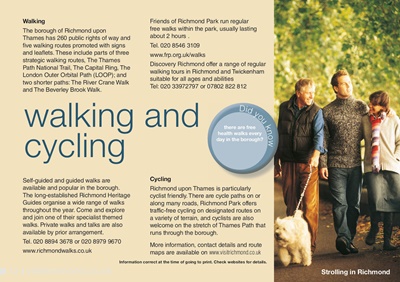 Walking
The borough of Richmond upon
Thames has 260 public rights of way and
five walking routes promoted with signs
and leaflets. These include parts of three
strategic walking routes, The Thames
Path National Trail, The Capital Ring, The
London Outer Orbital Path (LOOP); and
two shorter paths: The River Crane Walk
and The Beverley Brook Walk.
Self-guided and guided walks are
available and popular in the borough.
The long-established Richmond Heritage
Guides organise a wide range of walks
throughout the year. Come and explore
and join one of their specialist themed
walks. Private walks and talks are also
available by prior arrangement.
Tel. 020 8894 3678 or 020 8979 9670
Friends of Richmond Park run regular
free walks within the park, usually lasting
about 2 hours .
Tel. 020 8546 3109
Discovery Richmond offer a range of regular
walking tours in Richmond and Twickenham
suitable for all ages and abilities
Tel: 020 33972797 or 07802 822 812
Cycling
Richmond upon Thames is particularly
cyclist friendly. There are cycle paths on or
along many roads, Richmond Park offers
traffic-free cycling on designated routes on
a variety of terrain, and cyclists are also
welcome on the stretch of Thames Path that
runs through the borough.
More information, contact details and route
maps are available on www.visitrichmond.co.uk
Information correct at the time of going to print. Check websites for details.
Strolling in Richmond
walking and
cycling
there are free
health walks every
day in the borough?
Did you know
--- 12 - visitrichmond.co.uk