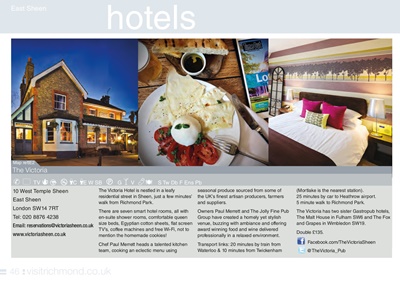 hotels
East Sheen
The Victoria
Map ref E2
The Victoria Hotel is nestled in a leafy
residential street in Sheen, just a few minutes'
walk from Richmond Park.
There are seven smart hotel rooms, all with
en-suite shower rooms, comfortable queen
size beds, Egyptian cotton sheets, flat screen
TV's, coffee machines and free Wi-Fi, not to
mention the homemade cookies!
Chef Paul Merrett heads a talented kitchen
team, cooking an eclectic menu using
seasonal produce sourced from some of
the UK's finest artisan producers, farmers
and suppliers.
Owners Paul Merrett and The Jolly Fine Pub
Group have created a homely yet stylish
venue, buzzing with ambiance and offering
award winning food and wine delivered
professionally in a relaxed environment.
Transport links: 20 minutes by train from
Waterloo & 10 minutes from Twickenham
(Mortlake is the nearest station).
25 minutes by car to Heathrow airport.
5 minute walk to Richmond Park.
The Victoria has two sister Gastropub hotels,
The Malt House in Fulham SW6 and The Fox
and Grapes in Wimbledon SW19.
Double £135.
Facebook.com/TheVictoriaSheen
@TheVictoria_Pub
10 West Temple Sheen
East Sheen
London SW14 7RT
Tel: 020 8876 4238
Email: reservations@victoriasheen.co.uk
& 5 TV D z C E W SB G V
S Tw Db F Ens Pb
--- 46 - visitrichmond.co.uk