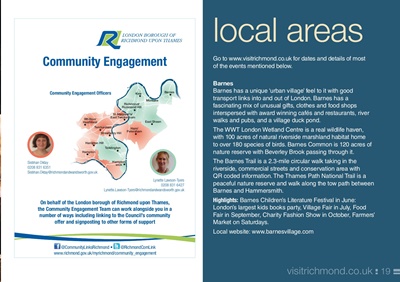 Go to www.visitrichmond.co.uk for dates and details of most
of the events mentioned below.
local areas
On behalf of the London borough of Richmond upon Thames,
the Community Engagement Team can work alongside you in a
number of ways including linking to the Council's community
offer and signposting to other forms of support
@CommunityLinksRichmond • @RichmondComLink
lynette.lawson-tyers@richmondandwandsworth.gov.ukVisit www.richmond.gov.uk/myrichmond/community_siobhan.oktay@richmondandwandsworth.gov.uk/community_engagement
Community Engagement Offi cers
Lynette Lawson-Tyers
0208 831 6427
Lynette.Lawson-Tyers@richmondandwandsworth.gov.uk
Siobhan Oktay
0208 831 6351
Siobhan.Oktay@richmondandwandsworth.gov.uk
Community Engagement
Richmond upon Thames
Whitton/
Heathfield
St Margaret's/
East Twickenham
Twickenham
Strawberry Hill
Hampton Hill Teddington
Ham/
Petersham
East Sheen
Richmond/
Richmond Hill
Mortlake
Kew Barnes
Hampton
Hampton
wick
visitrichmond.co.uk - 19 ---
Barnes
Barnes has a unique 'urban village' feel to it with good
transport links into and out of London. Barnes has a
fascinating mix of unusual gifts, clothes and food shops
interspersed with award winning cafés and restaurants, river
walks and pubs, and a village duck pond.
The WWT London Wetland Centre is a real wildlife haven,
with 100 acres of natural riverside marshland habitat home
to over 180 species of birds. Barnes Common is 120 acres of
nature reserve with Beverley Brook passing through it.
The Barnes Trail is a 2.3-mile circular walk taking in the
riverside, commercial streets and conservation area with
QR coded information. The Thames Path National Trail is a
peaceful nature reserve and walk along the tow path between
Barnes and Hammersmith.
Highlights: Barnes Children's Literature Festival in June:
London's largest kids books party, Village Fair in July, Food
Fair in September, Charity Fashion Show in October, Farmers'
Market on Saturdays.
Local website: www.barnesvillage.com